When Jason Boyce ran into Mark Ricketson outside an audition in Los Angeles last year, things had changed since they'd shared an apartment with other working models in New York. They'd both quit the industry, and were reckoning with their experience with it in different ways. Ricketson had come with an idea for a TV show, Male Models Anonymous. "If you're interested," he told Boyce as they parted ways, "I'd love your help. Because I know you have stories."
From the way he stressed this last word, his former roommate understood what he was talking about. "Because that's what we'd all always say, we have stories," Ricketson says now, sitting with Boyce in the Los Angeles offices of lawyer Lisa Bloom, who is representing Boyce. "And we all kind of knew what that meant."
At the time, neither thought they'd return to modeling. Certainly, they didn't see themselves becoming the faces of a campaign against sexual predation in the industry, specifically of male models, that recently blew up the careers of two of the world's biggest fashion photographers, Mario Testino and Bruce Weber.
But that's what happened after Boyce filed a lawsuit this past December against Weber, in which he claimed the celebrity photographer and filmmaker, best known for his eroticized portraits of stars like Chris Isaak and Richard Gere and his stylish, sexy campaigns for brands like Calvin Klein and Abercrombie & Fitch, touched him inappropriately during a 2014 shoot.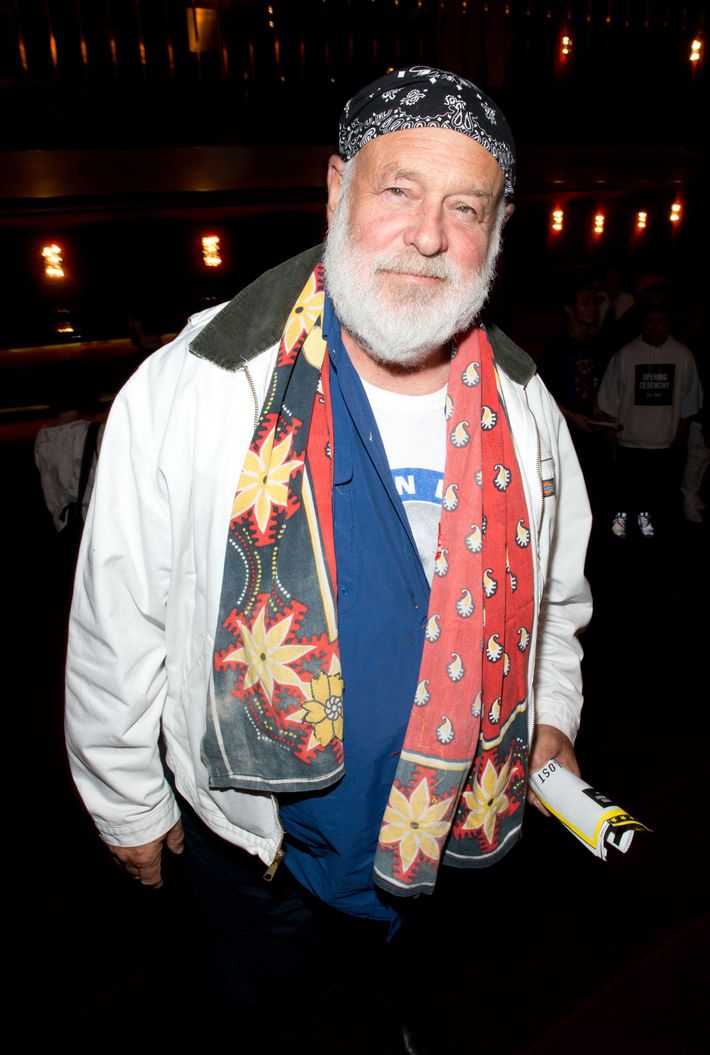 Although Weber did not respond to the Cut's request for comment, he has previously denied the allegations. "I'm completely shocked and saddened by the outrageous claims being made against me," Weber said in a statement to the Times, adding that it was not in his "character" to behave in such a manner. But the models who have continued to come forward about their experiences with the photographer beg to differ, as do many in the industry in which the behavior of "creepy Santa Claus" has long been regarded as an open secret.
It was not one that Boyce was privy to in 2014, however, when his agent — Jason Kanner of Soul Artist Management, who is also named in the complaint — called and asked him to go meet Weber: immediately, at a jewelry store in Manhattan. The urgency was a little strange, as was the fact that Weber kept him waiting at the store, without speaking or acknowledging him, for at least ten minutes, while he picked out a piece of jewelry for his wife. "I think he was setting the stage for, I control this situation," Boyce says, but he complied, and whatever the test was, he passed, because Weber asked him to come by his Tribeca studio, Little Bear, a few days later.
"You have to nail this," Boyce says his agent, Kanner, told him. The night before, he could barely sleep. "I was like, I'm going to shoot with Bruce, Oh, my gosh. My star could turn, I could take off from here. I was just like so amped." Then he got to the studio. "And what happened, happened," said Boyce, his face reddening.
What happened, according to Boyce's complaint, was that Weber engaged him in now-infamous "breathing exercises," which in this case involved placing his own hands on Boyce's unclothed body, removing his underwear, and grabbing his arm, which the photographer allegedly moved back and forth "so that Mr. Boyce was forced to rub his own genitals." After which, according to the complaint, he "took Mr. Boyce's hand and placed it on Mr. Weber's trousers, over Mr. Weber's genitals," then "put his fingers in Mr. Boyce's mouth," told him to close his eyes, and whispered: "If you just had confidence, you'd go really far … How ambitious are you?"
Boyce, who, according to his Soul Artist Management profile, is six feet tall, with the build and coloring of a Viking, was paralyzed with horror. "It was almost like an out-of-body experience," he says now. Afterward, in a daze, he went back to his apartment. "All the guys were there, and it's almost like they all kind of knew," he says of the other male models he lived with. "But no one wanted to talk about it." Including himself, at the time. "I thought for sure I'd take it to my grave," he says.
Mark Ricketson was in the apartment that day, and he felt the same way about his experiences with Weber. The Rhode Island native had met the photographer when he was 18, fresh off a Cosmopolitan magazine "Bachelor Blowout" contest his sister had entered him in, at a party for Abercrombie & Fitch in Manhattan. "I turned around and literally everybody I was with was gone, and I was just there, talking to Bruce," he recalls. Weber told him to come by the studio the next day, and that's when he experienced "the breathing exercises," he says, using air quotes. Even now, he is clearly uncomfortable going into detail, not least perhaps because he shot with Weber a total of six times, and only twice was spared by virtue of other people being around. "You're so embarrassed," he says, although like Boyce, he suspected he wasn't the only model this was happening to. "We all made jokes about it," he says. "Like, 'Hey, look out for that breathing exercise.'" Acknowledging the reality of what happened, or making an actual complaint, seemed unfathomable.
The industry was small, close-knit, and competitive, and no one wanted to risk being labeled difficult. As people in the industry tell it, it's hard enough for male models, who aren't as valuable as females anyway. "If you miss a casting or you're late, it's like all hell comes down on you," says Boyce. "And the way Jason [Kanner] works is, he freezes you out. He doesn't talk to you. Like there were times when I'd go in [and] he'd be like, 'Hey, how are you, awesome, sunshine and rainbows and ponies.' And there would be times where he just wouldn't even acknowledge me. He wouldn't look at me. And that messed with my mind so much, because everything that I'm doing is dependent on him? And all of a sudden he's not talking to me. And now I'm just like, what is going on? I'm not going to get any jobs? And you just get in that desperation mode. I would always cave, and I'd text him or call him and be like, 'I'm so sorry, what did I do? Let's talk this out.' And then he'd be like, 'Okay. I'll let you back in. It's fine this time.'" Kanner did not respond to a request for comment.
Ricketson, who was also represented by Kanner and Soul, is familiar with this feeling. "Somehow you feel like modeling is like the most important thing on the planet," he says. "It's so embarrassing to say that out loud."
So his angst manifested in different ways. Like in problems with his relationships. "I'd like just dissociate when anything bad would happen," he says. "I literally would just be like, 'I don't want to go there,' and I would kind of move on."
One day he picked a fight with Kanner. "I told him the industry was stupid," he says. "I think, like, just looking back now, this is me trying to speak out, but I didn't know what was wrong. Like I had all these feelings and didn't know what they were." Soon after that, he moved to Los Angeles, against Kanner's advice, and was dropped from the agency. While pursuing an acting career, he met his current girlfriend, a writer who had some experience with PTSD. When Ricketson began to pull away emotionally, she called him on it, and, eventually, the truth about what happened came out. "Opening up and being so embarrassed to talk about things that you allowed in your life at some point to a woman that you love … felt terrible," he says. Although it was also something of a relief.
Meanwhile, Boyce was going through a similar process. Kanner had sent him back to Weber's studio for a second time, and although the photographer was blessedly not present for the shoot, just being there gave him the creeps, and he decided afterward, he says, to throw in the towel. "I was just like, I'm not that ambitious," he says. He moved back to California, where he struggled with bouts of depression, something he'd never experienced before. "It was like a big, dark tornado," he says. "Feelings of failure, feelings of inadequacy. Feelings of like my manhood was stolen from me and I had to quit the career that I loved."
His longtime girlfriend knew something was up, but it wasn't until after their first wedding anniversary that Boyce actually told her what happened. "I was uncontrollably crying, like I couldn't stop crying," he says, tearing up in Bloom's office. "Because I could tell in her voice how heavy it was for her, and I don't like putting my problems on other people. The way I'm wired is, I just want to internalize it, deal with it. I can power through it. I'm a man. You know, all that machismo bullshit."
Soon after, he got in touch with Ricketson, remembering the moment they'd shared outside the audition. "He was like, 'Do you have a second to talk?'" says Ricketson, who recalls that he immediately knew what it was about. The stories.
Though his own experiences with Weber had all occurred past the statute of limitations, Ricketson agreed to provide moral support should Boyce decide to file a lawsuit. Which, at first, Boyce hesitated to do. "All the thoughts in your head start running through, like, what is this going to do?" he says. "What is this going to cost me. What could happen. What could they say about me—"
The reaction from the fashion community to the lawsuit — which accuses Bruce Weber and Little Bear, as well as Jason Kanner and Soul Management, of sexual harassment and discrimination, and aiding and abetting sexual harassment and discrimination — has been for the most part positive, both men say. Condé Nast's decision to stop using Weber and Mario Testino, who has been accused of similar behavior (and has similarly challenged the veracity of said accusations, though he did not respond for a request for comment), was particularly encouraging. But some people gave them a hard time: "Boo, you were not a good model," one man who identified himself as a former Soul employee wrote to Boyce, on Facebook. "I couldn't book you to give out free tacos at Taco Bell." And support of #MenToo, as one model dubbed the movement kicked off by the Times piece, has been overall more muted than its female counterpart.
"I think there's a stigma with guys," says Boyce. "I think it's a lot more uncomfortable." The biggest pushback that I've gotten is, 'Physically you could have just beat him up. Why didn't you?'"
Ricketson says he's gotten the same thing. "Everybody knows exactly what they're going to do in a situation they've never been in," he says.
"And I was that guy," says Boyce. "I was like, 'Oh, that would never happen to me.' But when someone has a mental hold on you, anything physical goes out the window. It doesn't matter how big or strong or awesome or fight-skilled you are, whatever."
Boyce clutches the hand of his wife, who has accompanied him to today's meeting. "Guys, we think we're strong because we hold it all in and don't talk about it. I beat myself up for years over this. I remember thinking, I wish somebody would say something. Because these guys are getting away with murder. All of them, from agents to casting directors to clients to photographers, they all know what's going on. And nobody's saying anything, because they can count on us as men holding all that in. Because as guys, we don't want to talk about it. And then I think it just kind of clicked, like, Oh, it's me. I'm going to be the guy to do this."