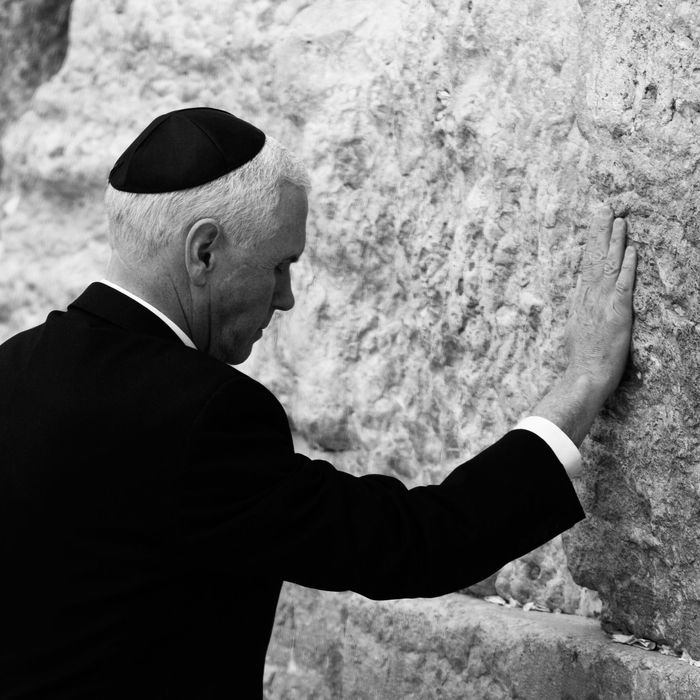 Mike Pence at the Western Wall.
Photo: Lior Mizrahi/Getty Images
Female journalists covering Vice-President Mike Pence's Tuesday visit to the Western Wall in Jerusalem found themselves unable to fully report on the event, as they were apparently blocked from seeing anything that was going on.
As Time reports, visitors to the Western Wall in Jerusalem are usually segregated by gender. Yet, during past media events, women reporters have at least been given a spot from which they can actually view what's going on. That was the case during President Donald Trump's May visit to the sacred site: Female journalists couldn't hear what was happening (because they were sequestered), but they could at least see the action.
But during Pence's Tuesday visit, female reporters were relegated to a fenced-off area — with a view that was blocked by scaffolding and the men's platform, according to The Guardian. After complaints, Pence's staff removed an awning so that they could stand on chairs to see over top of men's heads and equipment. But that apparently was no help:
Journalist Tal Schneider, who covers politics and diplomacy for the Hebrew-language Globes newspaper, tweeted a photo of her obstructed view (which had been given the hashtag #PenceFence). She wrote, "[I]f you are a male you can do your work and get the best front seat and if you are a second class citizen as I am, this is what we see & report."
The Guardian notes that Schneider told AFP that Pence's staff said the arrangement was made at the urging of Orthodox-Jewish officials at the site. Pence spokeswoman Alyssa Farrah later said, "Every effort was made to accommodate both female and male journalists while observing the rules in place at the Western Wall."