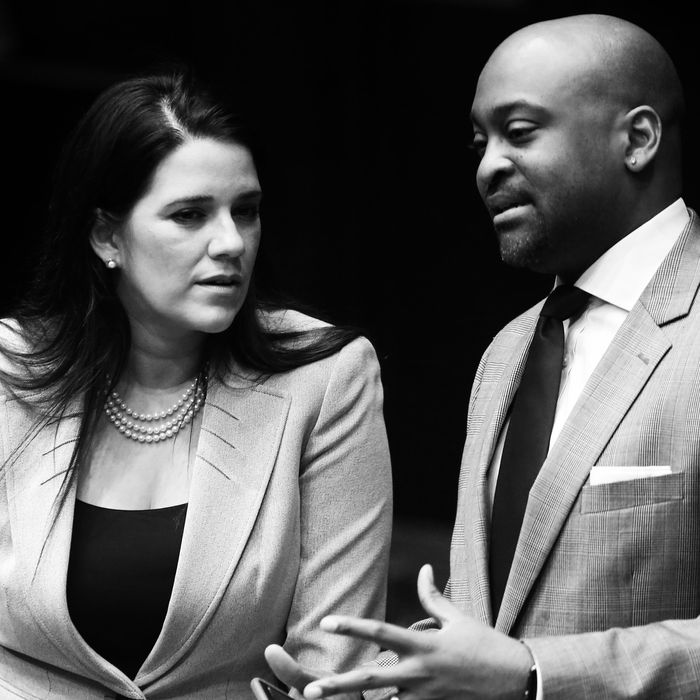 Anitere Flores and Oscar Braynon.
Photo: Steve Cannon/AP
On Tuesday, two Florida state senators issued a joint statement in which they acknowledged having had an extramarital affair.
According to the Sun Sentinel, Anitere Flores and Oscar Braynon, both married, admitted to their relationship after a website called floresbraynonaffair.com published video of Flores entering Braynon's Tallahassee apartment one night in April, and leaving the next morning. The website appears to have been shut down.
In their statement, the pair wrote:
As this 2018 session of the Florida Legislature gets underway, we do not want gossip and rumors to distract from the important business of the people. That's why we are issuing this brief statement to acknowledge that our longtime friendship evolved to a level that we deeply regret. We have sought the forgiveness of our families, and also seek the forgiveness of our constituents and God. We ask everyone else to respect and provide our families the privacy that they deserve as we move past this to focus on the important work ahead.
Flores and Braynon's affair is the latest sexual scandal to rock the Florida Capitol. In October, State Senator Jeff Clemens resigned after he acknowledged having had an affair with a lobbyist. Two months later, State Senator Jack Latvala resigned after he was accused of sexually harassing multiple women, and of violating corruption laws by trading legislative favors for sexual favors.
"I will not defend somebody engaging in an extramarital affair," said Florida House Speaker Richard Corcoran on Tuesday. "What I will defend is that it's a hell of a lot different than being a sexual predator and it's a hell of a lot different than raping somebody. It's a hell of a lot different than committing a crime."