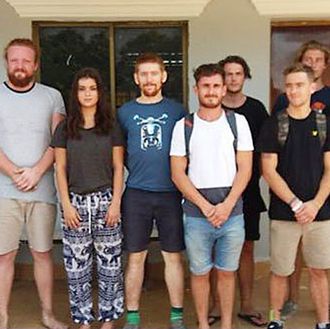 A photo of the ten people arrested released by the Cambodian National Police.
Photo: Cambodia National Police/AP/REX//Cambodia National Police/AP/REX/
A group of 10 foreigners were arrested in Cambodia for "singing and dancing pornographically" at a party, the Guardian reports.
This came after a police raid at a party in Siem Reap, near the temple complex Angkor Wat. Duong Thavry, who heads up the anti-human-trafficking and juvenile-protection department in the city, explained, "We cracked down on them because they committed activities that are against our culture."
Below are some photos released by the Cambodian police of the dancing in action: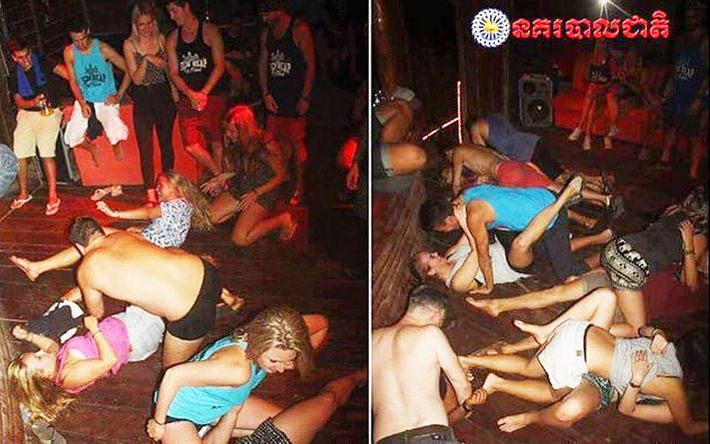 "Honestly, it was really confusing. Everyone was confused," one of the prisoners told the Press Association. "They raided, rounded us up — there were about 80 to 100 people at this party. Some of them were tourists. There were about 30 of them [police officers]."
The group is a mix of expats and tourists who range in age from 19 to 35, and come from the U.K., the Netherlands, Norway, New Zealand, and Canada. If convicted, they face up to a year in prison.
This comes after a few crackdowns against such behavior in the region: Last November, two American men were arrested in Thailand for taking bare-butt selfies in front of a Buddhist temple, and two Americans women were arrested and deported from Cambodia last September for also taking photos with their pants down.