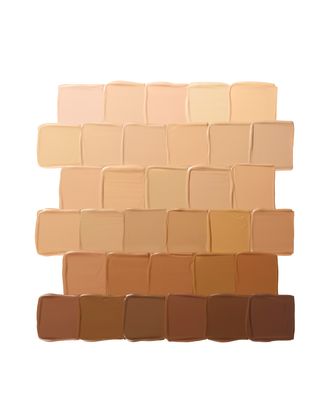 Forty is the new buzzword in beauty. Ever since Fenty Beauty released 40 shades of their Pro Filt'r Foundation to much press and customer acclaim, it's set a new standard for what is considered diverse in beauty. Of the number of shades, Rihanna said, "There needs to be something for a dark-skinned girl; there needs to be something for a really pale girl; there needs to be something in-between." Did it really take a multi-platinum singer who has sold over 230 million records to ensure that everybody could find their foundation shade and feel represented in beauty?
Sort of. Although the wide range and number of Fenty shades is notable, there are other brands who have tried to ensure that they are a good foundation source for people of all skin tones. While there's still plenty of room for progress and they may not all have 40 shades of foundation, here are several beauty brands who go the extra mile to make sure that they have diverse spokesmodels, and are notable for the breadth of their foundation shades.
Incredibly, Naomi Campbell has never been the spokesperson for a beauty brand. When an interviewer once asked why, she gave what was described as a "you know why" look. In 1998, Francois Nars was one of the first to feature Alek Wek and Campbell in ads for his line. Nars once said, "I felt that makeup was universal and should apply to everybody. I didn't want to create a makeup line for one ethnic group, it had to be multi-ethnic. To me, beauty is beauty. It doesn't matter to me what colour the skin is." Unlike other brands, NARS famously doesn't hire longterm spokesmodels, but has short-term campaign faces.
The brand's newest launch, Natural Radiant Longwear Foundation, is a glowy foundation designed to last 16 hours with 35 shades (previous foundations had about 20 shades). About 30 percent of the shades are for medium-dark to dark skin tones.
When Bobbi Brown first started her line in 1991, she launched a stick foundation with ten shades. Now there are 30. Although she doesn't have that many shades, her line is recognized for getting foundation undertones right so they perfectly match with skin. Brown told me that within her liquid foundation, there are 12 different formulations to ensure that undertones aren't too ashy or pink.
Her foundation is a personal favorite of Oprah and Campbell. "She actually uses my foundation. Naomi is an 8," Brown says (Campbell's shade name is Walnut). The brand has a new foundation out, Skin Long Wear Weightless Foundation, out this month which will come in 30 shades.
Actress Lupita Nyong'o became a face of the brand in 2014. Since then, she's appeared in ads for their lipstick as well of their foundation. Prior to Lupita their foundations were in the 20-ish shade range. But their newest foundation, the 24-hour-wear Teint Idole, has 40 shades. Nyong'o wears the third-to-darkest, 550 Suede C. A special lab, L'Oréal's Women of Color Lab, helps to ensure that appropriate, diverse shade ranges are created. Its manager, Belinda Atas, helped create Nyong'o's foundation.
NPR once reported that half of M.A.C's customers were women of color. The brand's first Viva Glam spokesperson was Ru Paul. "All races, all sexes, all ages," is the brand's tagline.
Uniquely, M.A.C adjusts and customizes their foundation offerings for their stores around the world. For example, at the brand's French Harlem location in Paris, they discovered that the foundation range was not serving the area's Ivory Coast African woman. They created four to five exclusive new shades to make sure that their foundations served the women in that location. Their standby foundation, the StudioFix Foundation has 40 shades.
In 1990, the brand started Shades of You, one of the first drugstore foundations for women of color. Herieth Paul is a current face of the brand. Atas at L'Oréal's Women of Color Lab also helps create foundation shades for the brand. In May, its Fit Me Matte and Poreless foundation increased its shade range by 16 shades, so that they now offer 40 shades.
In 2002, Liya Kebede made history as the first-ever black Lauder spokesmodel. Joan Smalls is a current face of the brand now, in addition to Fei Fei Sun, who replaced Liu Wen. The brand's newest foundation, Double-Wear, comes in 38 shades. Fifteen of those shades are devoted specifically to darker skin tones.
Queen Latifah became a face of CoverGirl in 2006 and soon after the announcement, was stopped at the airport by a woman who couldn't find her foundation shade. Soon after, the brand launched the Queen collection, specifically for darker skin tones. The line promises to serve 97 percent of skin tones, with its Queen All Day Flawless Foundation containing 14 shades.
When Fenty's 40 shades of foundation first started getting accolades, Make Up For Ever wrote a "Don't forget about me" post on Instagram proclaiming that "40 shades is nothing new to us." Unfortunately, Rihanna allegedly clapped back calling their foundation "ashy."
Nevertheless, the brand HD Invisible Cover Foundation does have 40 shades. Apart from Rihanna, other people, including makeup artists who frequently work with people of color, are fans of the brand's coverage. Makeup artist Camara Aunique who works with Garcelle Beauvais, Yvonne Orji, and Tasha Reiko Brown, uses the foundation regularly. Khoudia Diop, also known as @Melaniin.Goddess, was also a face of the brand.
Supermodel Iman likes to say that she didn't create her line for women of color, but for women with skin of color. She launched the brand with 16 shades of foundation. When the Korean beauty craze first started, many BB creams were limited to three shades, if that. Many BB creams didn't suit dark skin tones. Iman launched her BB cream with six shades.
If you buy something through our links, New York may earn an affiliate commission.