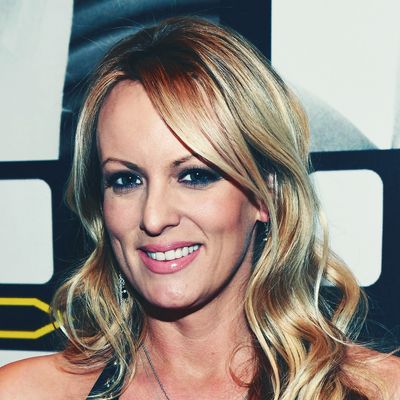 Stormy Daniels.
Photo: Ethan Miller/Getty Images
Late last week, The Wall Street Journal reported that in October 2016 President Trump's lawyer Michael Cohen agreed to pay porn star Stephanie Clifford, a.k.a. Stormy Daniels, $130,000 to stay quiet about an alleged relationship with President Trump. (Daniels, President Trump, and his lawyer have denied the report.)
But in late 2016, during the height of the presidential election, multiple news outlets were reportedly pursing this story, including Fox News.
And in October 2016, sources tell CNN that Fox News reporter Diana Falzone brought her editors a story in which Daniels's manager confirmed the relationship between Trump and her client. Falzone also reportedly saw emails documenting the financial settlement to ensure she never spoke of it again.
Yet Fox apparently killed the story. In a statement to CNN they said there wasn't enough material to report it. (Falzone filed a gender-discrimination lawsuit against Fox News in March 2017. Fox News has denied the allegation and the case is ongoing.)
President Trump recently circulated a statement in which Daniels denied having any relationship with him. But in the weeks since, adult-film star Alana Evans reopened the question when she told the Daily Beast and Megyn Kelly that she was invited to join Daniels and Trump on a night out in 2006. According to Evans, Trump said at the time, "Come hang out, come have fun, let's party."