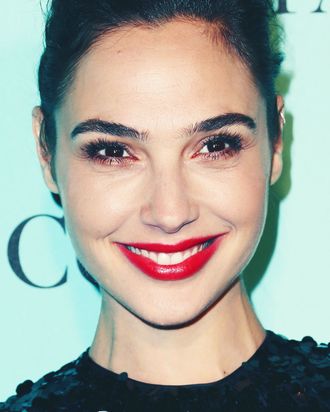 Gal Gadot.
Photo: Frederick M. Brown/Getty Images
Wonder Woman actress Gal Gadot has landed her first major beauty contract. Revlon has chosen Gadot as a new global brand ambassador for its #LiveBoldly campaign. The former solider, pageant queen, highest-grossing actress of 2017, and mother of two made things official on Instagram yesterday, sharing two clips from the campaign.
The brand called Gadot in a press release an "advocate for women," and in an interview with Women's Wear Daily, Gadot made it clear that the campaign wants to make a feminist statement.
"Anything that makes you feel more confident, more beautiful and better about yourself has to do with [feminism]. I think that in this world we should all be feminists and whoever is not is a sexist," Gadot told WWD. "And I am that [a feminist], and I love women, and I think especially now with everything that's been going on in Hollywood, we're in a beautiful moment and in a very interesting era for women. It truly feels like there's this cultural change — shift — and I think that it's necessary."
"We really see her embracing feminine power and what a woman can accomplish with their own special strength," Anne Talley, global brand president of Revlon said.
The marketing initiative #LiveBoldly will roll out through January. Throughout the campaign, we'll be seeing a lot of red lips (and red lip emoji) on Gadot's Instagram.