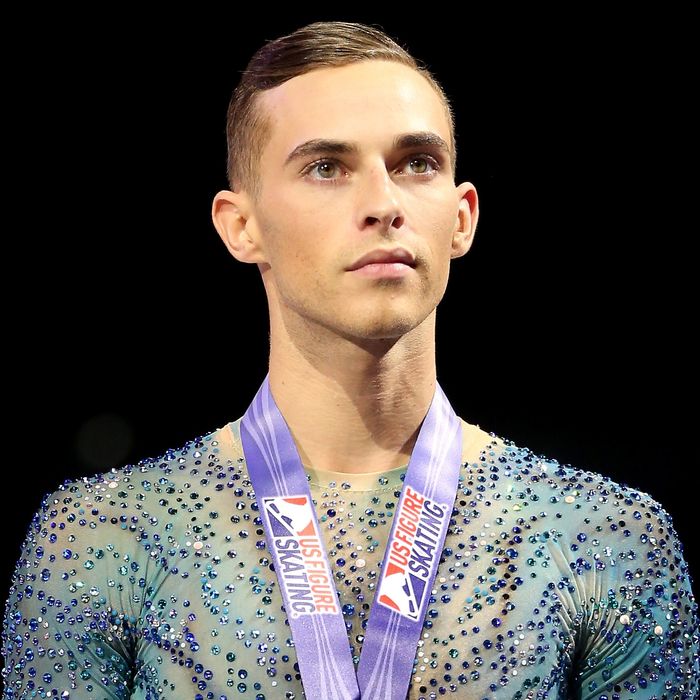 Adam Rippon.
Photo: Matthew Stockman/Getty Images
On February 9, the 2018 Winter Olympics will kick off in Pyeongchang, South Korea — and Vice-President Mike Pence will be leading the U.S. delegation. In light of this decision, USA Today spoke to figure skater Adam Rippon — the first openly gay athlete to compete for the U.S. in the Winter Olympics — and he shared his criticism of Pence.
"You mean Mike Pence, the same Mike Pence that funded gay conversion therapy?" he started off. Pence's spokesperson said that "this accusation is totally false and has no basis in fact" — but Pence has been called "the most vociferously and consistently anti-gay statewide elected official in the country" and President Trump even once reportedly joked that his VP wanted to "hang" all gay people.
"If it were before my event, I would absolutely not go out of my way to meet somebody who I felt has gone out of their way to not only show that they aren't a friend of a gay person but that they think that they're sick," Rippon said, of meeting Pence. "I wouldn't go out of my way to meet somebody like that."
Rippon said he might be open to meeting with Pence after he had competed at the games. "He seems more mild-mannered than Donald Trump," he continued. "But I don't think the current administration represents the values that I was taught growing up."