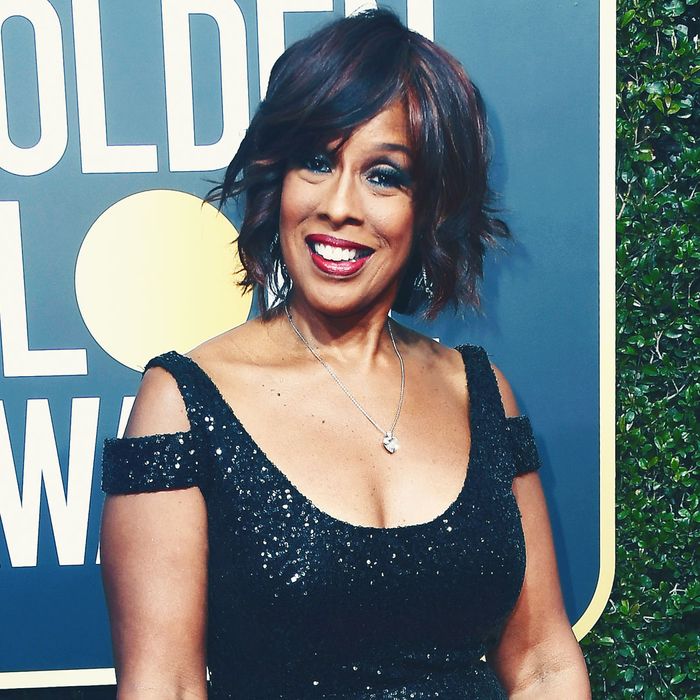 Gayle King at the Golden Globes.
Photo: Frazer Harrison/Getty Images
On Tuesday, CBS This Morning co-host Gayle King addressed the recent speculation that her best friend, Oprah Winfrey, might be considering a 2020 presidential run following her spectacular speech at the Golden Globes. King said that although Oprah is "intrigued" by the idea, she hasn't actively been considering running for office.
King's co-host Norah O'Donnell asked about Oprah's longtime partner Stedman Graham's comment that she would "absolutely" run for president. King explained that Stedman had been confused by the reporter's question. "Stedman says he thought the reporter said to him, 'Would she make a good president?' and he said absolutely she would," she said.
She went on to say that she doesn't think Oprah has changed her mind about running (backstage at the Golden Globes, Oprah said she had no presidential plans). "I absolutely don't think that her position has changed … I do think she's intrigued by the idea," King added. "I also know that after years of watching the Oprah show you always have a right to change your mind."
King explained that Oprah "crafted" that speech herself, working only with an editor from her magazine, and that she had known exactly what she wanted to say and how she wanted to say it. "She really did want to speak to young girls around the country. She really did want to say: enough already," King said.
But King clarified that the speech was not designed as a way to kick off Oprah's presidential campaign. "People said, 'Oh yeah she wrote that speech as a launching pad for what she wants to do.' That's absolutely not true," she noted.