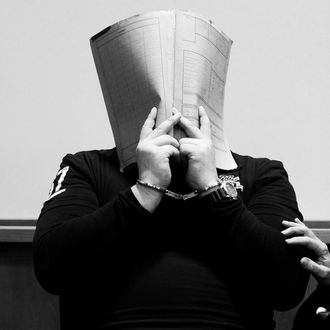 Högel on trial in 2014.
Photo: INGO WAGNER/AFP/Getty Images
In 2015, former nurse Niels Högel was convicted of killing two patients and sentenced to life in prison. On Monday, Reuters reports, police formally charged him with 97 other murders.
Högel worked at clinics in Oldenburg and Delmenhorst, Germany in the early and mid-aughts, where his M.O. was to inject patients with lethal drugs and then attempt to revive them — allegedly because he was "bored."
Per an article in The Guardian during that trial:
He said he felt great when he managed to resuscitate a patient, and devastated when he failed. Each time a patient died, he vowed to never play his lethal game again, but this determination would then slowly fade, he said.
Högel also claimed to have killed 30 other patients but, over the years, police came to believe that number was much higher. If found guilty of the 97 murders, local sources say he would be "the worst serial killer in German post-war history."