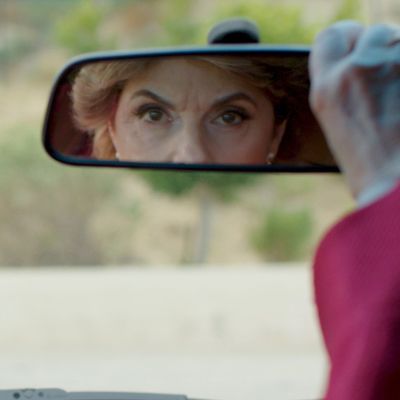 An image in the film,
Seeing Allred
.
Photo: Alex Pollini/Courtesy of Sundance Institute
About ten minutes into the new Gloria Allred documentary, Seeing Allred, which premiered this weekend at the Sundance Film Festival, the polarizing attorney makes an unorthodox point: Even in a country famed for the idea of innocent until proven guilty, public shaming can be a powerful tool for victims seeking justice.
While discussing the Bill Cosby case, Allred says in the film: "It is important there be consequences, and sometimes making someone accountable is a form of justice. Even if they can't have justice in the conventional setting of a court of law."
Directed by Sophie Sartain and Roberta Grossman, the documentary premieres on Netflix on February 9. It charts how major life events have shaped Allred's work and professional mission as an advocate for women's rights.
Allred grew up in Philadelphia and attended the University of Pennsylvania. She had a child at age 20 and left her first husband because she felt he endangered her daughter. Several years later she was raped in Mexico and nearly died from a then-illegal abortion. Allred eventually remarried, went to law school, divorced her second husband, who was arrested for fraud, and became one of the country's leading women's rights attorneys.
"Gloria invented essentially a new genre of law namely representing victims, mainly women," lawyer Alan Dershowitz, who is known for fighting against Allred on cable news, says in the film. Today, a big part of her work is being the go-to lawyer trying these cases of public opinion — whether that means taking on the Marines, President Trump, or Bill Cosby.
Allred is working at a time when younger activists are using similar strategies. In the anti–sexual assault movement on college campuses, women didn't feel administrations were protecting them, so they sought other avenues for protests, from mattress-carrying art performances to rallies to writing on bathroom walls. In the #MeToo movement, women used Twitter, Facebook, Instagram, and eventually Google Docs.
These activists are often criticized, like Allred, for using extra-judicial systems, to which they respond that the system is stacked against them. Which is where Gloria Allred often comes in to help — with her message amplified by press conferences and this new documentary.
But Allred learned to leverage the power of media decades ago. Starting in the mid-1970s, as a young lawyer in Los Angeles, she started to go on TV to discuss women's issues because she felt it was one of the only ways women could be heard. Her first televised news conference came when the politician Jerry Brown had just been elected governor of California and pledged to appoint more women judges but wasn't following through on his promise. So the National Organization for Women asked Allred to hold a news conference. They did and eventually Brown met with NOW and listened to their concerns. "I started appearing on talk shows," she says in the film. "At that time it was the only way that we could even discuss women's rights."
Today Allred is still famously holding press conferences to give women who have accused Bill Cosby of sexual assault a way to tell their stories — and one could argue the strategy is working. In the last two years, six different states including Colorado, California, and Nevada have changed the statute of limitations on rape cases, which will allow many of the women who have accused Cosby of assault to bring charges against the comedian.
There's no evidence that she's slowing down, at least according to the film. She has a closet full of pink brocade jackets and no plans to retire, take a vacation, or remarry. She also really doesn't have time to worry about what people think of her. Or as she tells the camera: "I don't really care."