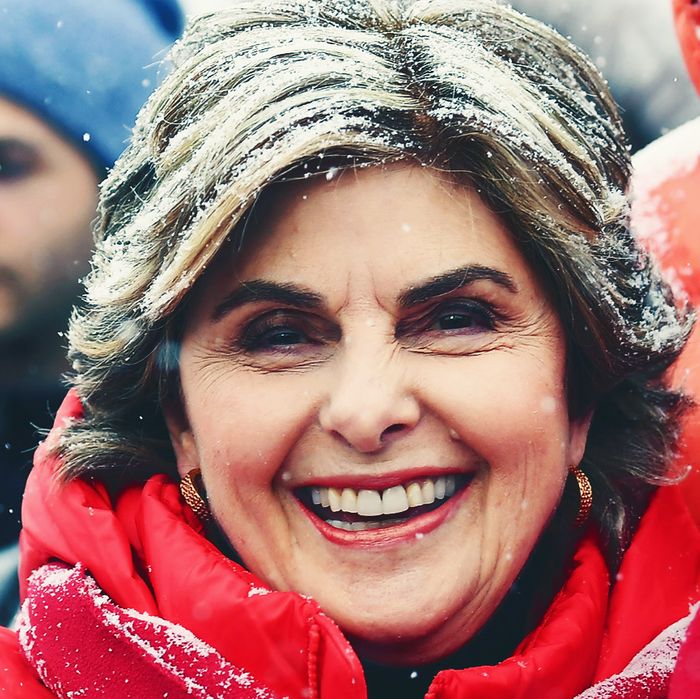 Gloria Allred at the Respect Rally in Park City, Utah.
Photo: ANGELA WEISS/AFP/Getty Images
As women marched around the country today, a triumphant Gloria Allred walked onto the snowy stage of the Respect Rally at the Sundance Film Festival in Park City, Utah.
"This entire year has been the winter of our discontent," Allred told the crowd. "But it is also the year of our awakening to the lack of respect and the denial of our rights. This marks the end of fear being used as a tool to silence women."
Allred, the famed attorney who has made her career representing high-profile victims of sexual violence, has been a major force in the #MeToo moment. And her career over the last year shows how much the conversation around sexual violence, harassment, consent, and institutional complicity has evolved. (A new Sundance documentary, Seeing Allred, charts this path.)
Allred has personally represented many of the women who have accused powerful figures, such as Bill Cosby, President Trump, and Bill O'Reilly, of sexual assault and harassment. Now, a year after the inauguration of President Trump, Allred stood onstage at the Sundance Film Festival, where Harvey Weinstein was once an industry fixture — and where he allegedly raped Rose McGowan years earlier.
"We demand the right to be free of sexual assault, rape, and abuse," Allred said, leading the crowd in a chant. "Resist, insist, persist, insist, and elect."
Other speakers included actresses Tessa Thompson and Jane Fonda, performer Common, Daveed Diggs, writer Lena Waithe, actor Nick Offerman, Salt Lake City mayor Jackie Biskupski, and Utah Senate candidate Jenny Wilson. Actress Kathryn Hahn was also spotted in the audience.
Today, Allred also revived a call for the Equal Rights Amendment. The amendment would specifically grant women equality under the Constitution, and was a central demand of the women's rights movement in the 1970s. Originally proposed in 1923, it was passed by Congress in 1972 and eventually ratified by 35 states, including Nevada just last year. The ERA has not yet been part of the #MeToo conversation, but Allred wants to change that.
"Let me tell you no one has ever given women their rights," she said. "We have been fighting for almost 95 years just to put women in the Constitution to protect the rights of our daughters and we are going to have it."