Emily Weiss is standing on Lafayette Street, just north of Canal, wearing a red lace Valentino dress with a puffy pink fur jacket draped awkwardly over her shoulder. It's an incongruous outfit for the season (mid-November) and the weather (brrrr) and the time of day (just after 9 a.m.), but it's also exactly the kind of thing someone would wear if she expected to show up on lots of social-media feeds within the hour.
Weiss is smiling as she ducks into a storefront: Its windows are opaque, but the whole thing is glowing red, matching her dress and her jacket — it's just all so beautifully photographable. There are a few small letters on the front: GLOSSIER YOU, the name of her first fragrance. This is the pop-up shop to launch the perfume, the 22nd product from her not-yet-four-year-old, $34 million company Glossier, and if it follows the trajectory of the other 21, it could have a waiting list and a line around the block full of young girls with clear complexions eager to pay $60 to smell a little bit like musk but mostly, the description promises, like subtly improved versions of their already-fragrant selves. Six floors up is the company's showroom and main retail establishment, which, though it operates without the benefit of a street-level window, generates more sales revenue per square foot than the average Apple store, according to Weiss.
Until recently, the pop-up space had been a Dunkin' Donuts, but it's been rebuilt for an army of Glossier girls: upholstered in undulating waves of red, with a pink curtained ceiling, pink tinted mirrors, and — in a slightly S&M touch — a leather-strap-bound pink pouf. Beautiful young women wearing red pantsuits make deep eye contact and speak in whispery voices. "Welcome," says one, as she lifts a bell jar, wafting the odor about. "Do you like it? All that's missing is … you." A hand in a red patent-leather glove holding a jar of perfume emerges from a mirrored closet, spritzes, waves, retreats — a cross between a glory hole and the ground floor of Saks.
"I don't know what to tell you," Weiss says, "except that it's really, really, really weird in here!" She's talking through a big, dimpled grin. "For you to go out of your house and make a pilgrimage somewhere, there needs to be a reason. And this," she says, gesturing around the shop, "this is the new luxury!"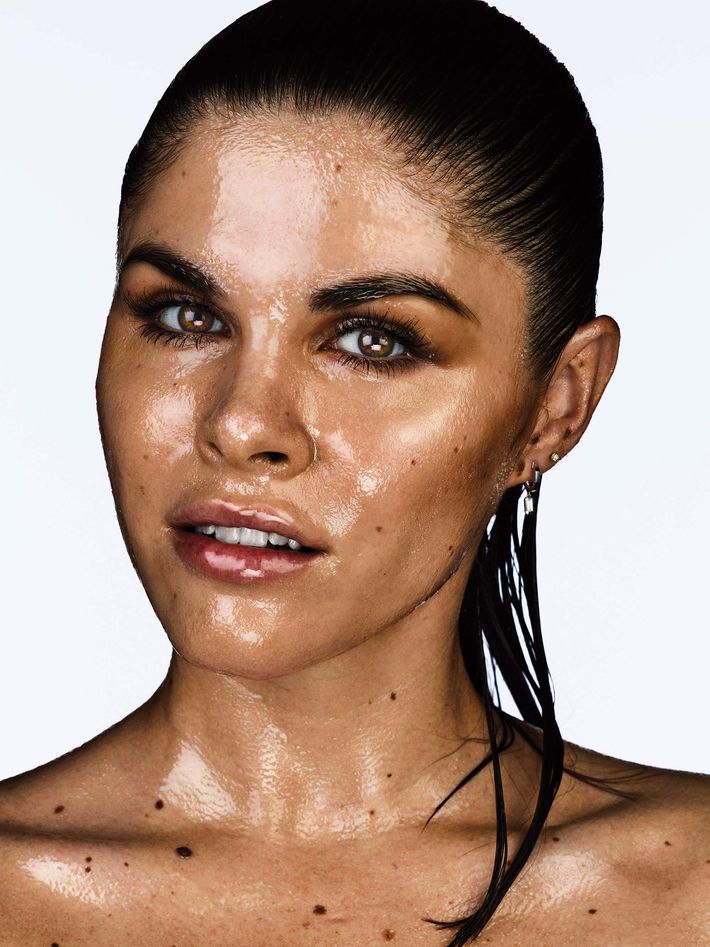 The Glossier aesthetic is sometimes described as makeup for people who are already pretty — it's a bit like Alexander Wang, clothing for off-duty models to toss on for Vespa-ing between shows in Milan. It's the idea that peeling away artifice and pomp leads to an even more thrilling beauty: the real thing. It didn't matter that the models weren't the ones buying it; consumers were devouring backstage photography as much (if not more) than they were devouring runway images, and it created a pared-back, super-cool-girl language of its own. The Glossier appeal is similar: The makeup is for gilding your lovely lily, for people who reject the beauty-queen, done-face ideal. The brand's motto is skin first, but Glossier doesn't bore you with science. (In fact, Weiss chooses not to share the details of her products' formulations. She just doesn't think her customers care about ingredients if they're happy with the results.)
The company launched online in 2014 with only four products: Milky Jelly Cleanser, a priming moisturizer, Balm Dotcom lip balm, and a misting spray. Everything was available only via Glossier's millennial-pink-accented website and priced for a young market. The products shipped in resealable pink bubble-wrap pouches with a little strip of graffiti-doodle stickers inside, which Weiss hoped her customers would plaster all over their stuff, then take pictures of the stickers plastered all over their stuff to post on social media. Customers sharing with other customers was a key part of the business model, and although Weiss is a perfect manifestation of the brand's ideal, she consciously decided to cede ground to her clientele. "It's not about one person being the rule-maker tastemaker," she says. "That's not how people are shopping anymore. Women are discovering beauty products through their friends, full stop."
Weiss's plan was for customers to feel like the brand itself was a close friend — a friend who was maybe a little older, and maybe a little cooler, who maybe moved to the city when you stayed in your hometown but never lost her sense of humor or humility — more likely to cross her eyes in a photograph than make a duck face. "I wanted to create a brand whose sweatshirt you wanted to wear," she says.
Last year, Glossier launched a "rep" program — highly motivated users get product credit and a commission for referring friends who become buyers, virtual Avon ladies for the digital age. Reps get their own pages on the Glossier website ("Hi! I'm Alyssa … Each individual product plays a part in making me look refreshed, dewy, and natural every single day"), and Weiss swears she and her staff read their feedback carefully. They've started working on travel sizes for their Soothing Face Mist and Milky Jelly Cleanser, for example, because customers complained that the TSA had thrown out the bottles for being too big. On the Glossier You page, "Dis Good. Dis Real Good," "Holy grail perfume," and "I use this perfume every day and it actually is a boost of confidence!" are typical posts. But also: "Glossier You doesn't actually smell like the mall — it smells like the CONCEPT of the mall … Imagine going back to your fondest hometown mall, minus all the people you'd rather not run into, and that's what 'You' smells like … Weird because you bought a fragrance online without actually smelling it because of pretty images of women who own it. Capitalism is WILD!"
Emily Weiss has been something of a millennial icon, the star of her own fairy tale, ever since 2007, when she showed up on three episodes of MTV's The Hills. Weiss was the New York intern, the sophisticated brunette to the scattered L.A. blondes, flown in when the L.A. girls were flailing. She immediately, unflaggingly, took over, sorting some shit out (peonies, obviously!). Lauren and Whitney blushed and referred to Weiss, in hushed, jealous-slash-nasty tones: "Superintern."
Weiss is from Wilton, Connecticut, a Gilmore Girls–y town in Fairfield County full of white clapboard houses on big, glittering lakes, a commuter burb with a Cheever vibe. Weiss's father worked as an executive at Pitney Bowes, and her mother was a homemaker. "I had a really great childhood," she says. At the public school, where everyone played lacrosse, she was "a theater nerd doing art in my corner." When she was in seventh grade, she wrote a Letter to the Editor to Vogue after admiring an Arthur Elgort shoot starring the model Trish Goff. "I wrote in and said, 'Thank you for showing young women how to wear short skirts in a classy way, Signed, Emily Weiss, Wilton, Connecticut.' When they published it, I died."
She babysat on weekends for a neighbor who worked at Ralph Lauren. "It was like, 'I like your kid and all, but what I really want is to work at Ralph Lauren,' " Weiss says. The neighbor was charmed, and Weiss began commuting to Madison Avenue ("With the men," she says, "honestly, it was all the men") the summer of her 15th year. "I proved myself to be very valuable," she says. "You have to be so many things. You have to be a sponge, you have to be respectful, you have to roll up your sleeves. I really earned my right to be there. I was just like, 'Put me to work. I love work!' " When she went back to school in the fall, she persuaded her parents to allow her to play hooky during collections so that she could go back to help out at Ralph Lauren. Eventually, Whitney Fairchild, then a senior design director at the brand, called Amy Astley, then the editor-in-chief of Teen Vogue. "She said, 'Okay, I have never done this before, but I have someone you really have to meet,' " Astley says. "So I did, and wow. She had incredible style and taste, she was sophisticated and driven, she was that young person who just wanted to work and who really preferred being around adults. Lena Dunham used to babysit my kids, and I remember thinking that Emily was very much the same way — an old soul.
"She was also," Astley says, "great to photograph. The MTV people loved her. But Emily said, 'I don't want to be a reality-television star.' She knew that was a trap. I always knew that Emily would go far, and one of the ways I knew was that she just walked away from MTV." Weiss had figured out where real power lies, and it wasn't going to come from moaning about her boyfriends on TV.
Instead, Weiss got a series of assistant jobs at Condé Nast — first in the fashion closet at W magazine, then as an assistant to the stylist Elissa Santisi, who was then on contract at Vogue. She began traveling for shoots with Santisi, grilling the hair and makeup teams about their work. Once, on a Terry Richardson shoot in Miami, Weiss admired the model's tan, and the model, Doutzen Kroes, recommended a self-tanner to Weiss. She tried it, loved it, and, although she'd never written about beauty before, asked Vogue's then–beauty director Sarah Brown if she could write about it for the magazine's website. "It was a total unlock moment," Weiss says now. "I was like, 'God, I love this. How fun is it to write about beauty? To talk about beauty?' I just kind of caught the bug."
That August, sitting on a beach in Connecticut with her parents, she made up her mind. " 'Guys, I think I'm going to start a blog,' " she told them. " 'It's going to be about women and putting them and their narrative and their story at the forefront and giving them a voice and a platform and just really encouraging them.' " She beams her superstar smile. "I mean, I didn't really say all that. That's what it became."
Into the Gloss launched six weeks later, an intimate look at insiders' habits. In its signature vertical, the Top Shelf, fashion people Weiss had met during her time at Vogue, like the editor Sally Singer and Kroes, allowed Weiss to photograph their medicine cabinets and then discussed, at length, their grooming habits and rituals. Weiss had built solid relationships, and it was a moment when voyeurism seemed as good a reason as any to read a blog. (Coveteur launched around the same time.) There's a democracy inherent in people's actual beauty lives — many women use Chanel and Vaseline — and Weiss captured that in a sort of proto-natural way, which is not to say that her subjects were ordinary women who'd combed the aisles at Walgreens. But wouldn't you like to know what the fashionistas picked?
The idea to transition the blog into a brand was always sort of there. As the blog became successful, Weiss learned about the market, and she already had hundreds of thousands of potential customers who were growing, week after week, to trust her authority. She'd also realized that the beauty industry is dominated by a few massive brands, many founded around World War II. Many of the "boutique" brands are often absorbed, quickly, by these larger ones, maintaining their smaller image while benefiting from big, centralized labs that make it possible to release and market new products to the crowded marketplace, but they lose a bit of their personality along the way.
Weiss's idea was different, to be something of a — that dreaded word — "disrupter" of the beauty industry. Start small. Don't aim at wholesale (no Sephora, no Duane Reade). Crowdsource pretty much everything, through social-media platforms, affiliate sponsorships and links, and just through gossip.
But creating a beauty brand is a lot harder than creating a blog, which she estimates cost her $1,000 at first ($700 of which was for a digital camera). The price tag for launching with four products was about $1 million.
"I had no idea what I was doing," she says. "I was 28 years old. I didn't have an M.B.A. I went to art school." But she put her ideas together and took her show on the road. She visited 12 venture-capital firms, and she received 11 "no" answers.
The sole "yes" was from Kirsten Green, a San Francisco VC interested in brands started by women. "I see a lot of beauty lines that are beautiful," Green says, "but we're trying to work with founders who are looking at the entire thing holistically, from a unique viewpoint. What Emily was pitching was a multilayered vision. She wasn't out there pitching Glossier; she was really thinking differently, and I thought, I need to work with this woman. I don't know what we're going to build, but it's going to be different and interesting. Emily is my best case study in having a gut instinct on somebody."
Once Weiss had the funds, she was ready: "I wrote out, 'Here are all the things we need to launch: website. Chemist. Office space.' And then I just checked them off, one by one. Put all the balls in the air. Got pregnant with Glossier. Incubated. Gave birth to four beautiful products."
"It was very Homeland," Weiss says. She put a whiteboard up in her apartment and began to define the mood through a series of images that are — to anyone versed in millennial fashion icons — not hugely shocking. There's a touch of Phoebe Philo, a dab of Kate Moss, an older woman with white hair and perfect cheekbones — an entire board about a beauty brand where the only evident colors are flesh and a spot of pink.
The products themselves are also not so revolutionary: Glossier You, for instance, was designed by the same nose that brought us Axe Body Spray scents and Le Labo's Santal 33, though its packaging was designed by a 23-year-old Glossier employee named Laura Yeh. "I was like, 'That's what we hired you for!' " Weiss says. "It was just sort of, go buy the software that you need and do it, and then you'll have something really cool to show your professors." And there was no surrealist ad campaign with confusing language and impossibly attractive models. "Sometimes iPhone photos get the point across better," Weiss says. "It's more us."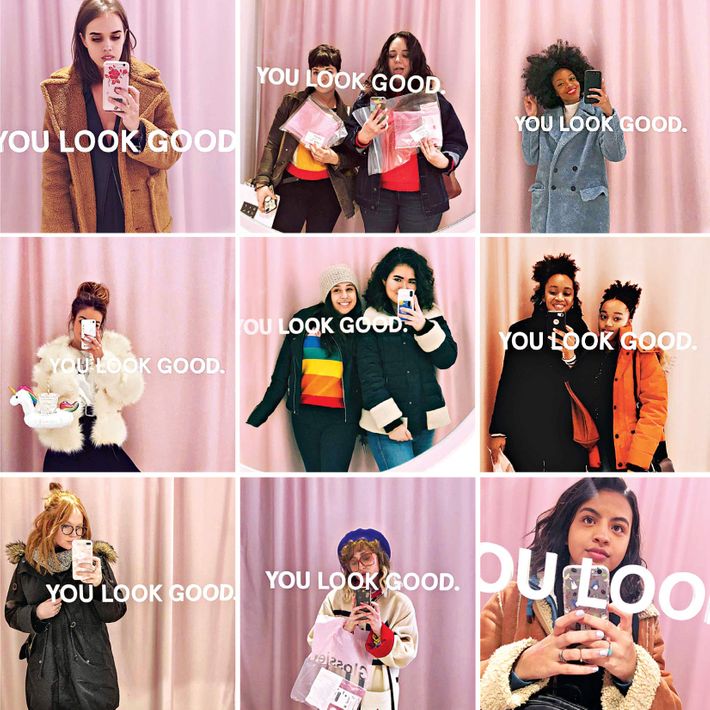 Glossier is also the first beauty brand to speak the visual language of the millennial: pared back, lots of white space, simple fonts. The first body products were launched with an ad campaign featuring nude women of varying shapes and sizes and ages with Barbara Kruger–esque red text boxes obscuring the important parts.
Weiss herself is obviously Glossier's secret sauce — its gloriously friendly, photogenic, hardworking face, the Estée of this baby Lauder. But maintaining both that image and distance from it is a complicated dance — there are thousands of pictures of Weiss out there in the world, so many Q and As, and it takes a while to figure out how carefully drawn and maintained her boundaries are. It's hard to imagine Weiss taking her readers on the miscarriage and pregnancy journey, for example, as Man Repeller's Leandra Medine (in many ways Weiss's closest peer) did in 2016, describing her self-doubt and insecurities. Weiss did flirt with openness around her 2015 wedding. There was a preparation diary — she described the colonics, the microcurrents ("butt=higher"), and even shared a few photographs from the day, which happened in the Bahamas and included only 37 guests. That two-step is not unusual for Weiss — gestures of intimacy deployed alongside strategic walls. She gets right in there on the comment boards, replying to her customers one-on-one, but you never get the sense that Weiss is vulnerable. There is something of the goddess about her, and it feels like a subversion of the notion that it's a moment for sharing everything. Turns out, even the millennials like their heroes on a pedestal.
"This isn't a traditional, top-down, life-style, myth-creation, inspiration story," she says. "This isn't a Tory Burch, a Ralph Lauren, an Estée Lauder. A lot of our customers don't even know who I am." Weiss sees herself not as a visionary but as someone who realized something was happening — social media was transforming the way beauty products were talked about and bought — and then worked her ass off to get on top of it. If people want to be like her, well, it is the era of the aspiring she-E-O. "Me being CEO is probably aspirational to a lot of customers," she admits. "There were very different value systems when a lot of different beauty brands were created in the '40s and '50s, and it had to do with glamour and a life of luxury. I think right now it's about power."
Street-level retail is planned, finally, for later this year — after the company moves to a 25,000-square-foot Rafael de Cárdenas–designed Soho headquarters, funded in part by a recently closed series-B fund-raising round. In the meantime, Weiss tries to visit the showroom every day, to check in with her customers, to eavesdrop a bit. The staff is young and Glossier clear-faced — they wear pink overall worksuits, some tied at the waist, revealing those $60 gray Glossier sweatshirts, which regularly sell out online. None has a beauty background, and they hang out unobtrusively. "We're sort of more like friends," says Michaela Del Viscovo, an FIT student who works 20 hours in the store and began, like a great number of Glossier employees, as a customer.
As Weiss adjusts a crooked photograph on the wall, a middle-aged woman wearing diamond hoop earrings and a parka comes over, clutching her full shopping bag a bit sheepishly. "Mother of boys," she says to Weiss, "but I do have nieces, and now they're going to love me like crazy. I've always been the cool aunt, but if we take a picture, then forget it. I'll be cool for life." Weiss smiles graciously. "Of course! I have a weirdly long selfie arm." They both grin, delighted.
Production Credits
:




Photos by

Ben Hassett


Styled by

Anna Trevelyan


Makeup by

Marla Belt

at Streeters using M.A.C Cosmetics




Hair by

Joey George

at Streeters using AG Hair




Nails by

Naomi Yasuda

at Streeters using Dior Nail Glow




On Weiss:

Silver earring by David Yurman

*This article appears in the January 8, 2018, issue of New York Magazine.