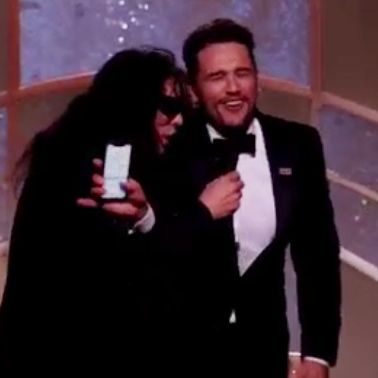 Tommy Wiseau, James Franco, and Dave Franco.
Tonight, Hollywood's biggest stars gathered in Los Angeles for the 75th annual Golden Globe awards. This year's Globes were inspirational, political, and, at times, extremely awkward.
From those who didn't quite grasp the tone of this year's awards, to failed award grabs, here are the most cringe-worthy moments from tonight's show.
David Harbour blanking on the purpose of Time's Up
Stranger Things' David Harbour was apparently not briefed about the purpose of Time's Up before he put on his pin. When ABC's Lara Spencer pointed to the Time's Up pin on his lapel and asked "Real quick, time's up on: blank … " Harbour seemed a little confused.
"Uh, I mean, time's up on, um … "
"Sexual harassment?" Spencer prompted. "Predators? Gender inequality?"
"Yeah, and like, women not getting the respect that they deserve in the workplace. I think time's really up on women not getting the respect they deserve in the workplace."
Nailed it! Watch the full clip below.
Giuliana Rancic asking New York Times best-selling memoir author Issa Rae what she would call her memoir
While interviewing Issa Rae on the red carpet, E!'s Giuliana Rancic asked: "A lot of the work you do is somewhat autobiographical. If you were to write a memoir, an autobiography, what would the name be?"
A decent question, except that Rae already released a memoir in 2015. The Misadventures of Awkward Black Girl was a New York Times best seller.
Rae graciously ignored the misstep, and answered: "I think my next one would be called, Where Do I Go From Here? What Do I Do? And then it would just be blank pages for people to fill it out, and I'd read it."
Tommy Wiseau trying to grab the mic from James Franco
When James Franco won the Golden Globe for Best Actor in a Musical or Comedy for his role as Tommy Wiseau in The Disaster Artist, he was joined onstage by his brother and co-star Dave Franco, as well as the real Tommy Wiseau, who promptly tried to grab the mic from him. Franco pushed him away, and it was kind of awkward, but at least we got a new reaction GIF out of it.
Natalie Portman presenting the award for Best Director
As Natalie Portman pointed out when she presented this year's nominees for Best Director, all the contenders had one thing in common.
"Here are all the male nominees," she smiled.
Although many people seemed delighted by her remark, others looked rather uncomfortable. Her co-presenter, director Ron Howard, laughed nervously, and the nominated directors all looked sheepish.
All the actors who slammed E! — on E!
It was a rough red carpet for E!. In addition to the Issa Rae misstep, Giuliana Rancic and Ryan Seacrest were repeatedly reminded by their interviewees of the fact that their former colleague, Catt Sadler, announced that she was leaving their network after she learned that she was paid significantly less than her male co-host, Jason Kennedy.
"I was so shocked to hear that E! doesn't believe in paying their female co-hosts the same as their male co-hosts," Debra Messing told E!'s Giuliana Rancic. "I miss Catt Sadler, and we stand with her. And that's something that can change tomorrow. We want people to start having this conversation that women are just as valuable as men."
Then, presumably, they went to watch the show from the E!-sponsored Corner of Shame.