If you followed the hype leading up to this year's Golden Globes celebration, you might well have expected the red carpet to resemble a cross between a 1960s sit-in and a funeral cortège. The new "Time's Up" coalition's request for women to show solidarity with abuse victims by wearing black to the Globes seemed to augur a dramatic tonal shift for an awards gala.
"I think that will be really powerful," predicted actress Allison Janney. "I think that there's a power … when people fly in formation … when they act as one," said Holly Hunter. Some speculated that by dressing in black Hollywood was actually acknowledging its own demise, demonstrating the necessary respect for the dead: In the New York Times, Jenna Wortham wondered if it would all "look like a mass funeral, grieving a death of something old and decrepit that needed to die."
For some then, a public display of black-clad women held out the promise of much-needed gravitas — or even grief — responses appropriate to the ever-widening revelations of sexual malfeasance in the entertainment industry. Others — mainly men, come to think of it — seemed nervous at the mere thought of this form of fashion activism: Both Al Roker and Ryan Seacrest seemed deeply ill at ease in their interviews with the women in black. Host Seth Meyers even claimed he'd asked Tina Fey and Amy Poehler to vet his monologue, to ensure against accidental misogyny.
In the end though, the black red carpet proved a toothless tiger, far less effective in practice than in theory. The effect was neither radical nor particularly somber, and here's why: First, it is in no way surprising or unsettling for women to wear black to formal events. Though it is true that for centuries black was a sign of mourning, suitable only for widow's weeds, that changed way back in 1926 when Coco Chanel invented the Little Black Dress, turning the color of death into a signifier of go-anywhere chic. We see women in black dresses — long or short — everywhere, including on many red carpets. To our modern eyes, such attire codes simply as eveningwear, not protest garb.
Next, there is the matter of the gowns themselves — quite apart from their color. The fevered political rhetoric surrounding the Time's Up injunction to wear black seemed to imply it would mean something more than solidarity of color alone. It seemed to imply a solidarity of refusal: an organized refusal by actresses — our birds of paradise — to wear their customary bright plumage. For glamorous film and television actresses to dress in black might have meant a voluntary tamping down of their star wattage in deference to the grave issues at hand. But that is not what happened. Rather than serving as a humbling or even a unifying agent, all that black fabric had simply been configured into the usual array of splashy, sexy, lavish, outrageous (and outrageously expensive) "statement" dresses — each one distinct, and clearly chosen not with collectivity in mind, not to "fly in formation," as Holly Hunter suggested, but with the goal of showcasing the individual wearer and her assets. These were spectacle-dresses worn by spectacle-people.
And that is, after all, what Hollywood is about: the spectacle of beautiful people, especially beautiful women. (Isabelle Huppert acknowledged as much onstage last night, remarking that French directors believe "filmmaking is the art of having beautiful women do beautiful things.") Whatever their genuine political goals for the evening, the women of Hollywood were never going to deny us the pleasure of their beauty, and frequently, that meant the beauty of their nearly naked bodies. Barely covered breasts, for example, were a "thing" last night: Kate Hudson wore a Valentino consisting mostly of flowing transparent netting with a Grand Canyon of a décolletage, reminiscent of Jennifer Lopez's famous green Versace at the 2000 Grammys. Catherine Zeta-Jones wore a completely sheer, unlined (save for a small modesty panel), lace Zuhair Murad gown with a precarious, plunging neckline surely requiring body tape. Sharon Stone's skin-tight Vitor Zerbinato featured odd, triangular cutouts all over, exposing her flesh (or a flesh-toned lining), it too split from clavicle to navel. Mariah Carey's Dolce & Gabbana mermaid dress seemed about to be split by Mariah — its rib-crushingly tight bodice barely containing her amplitude. And a whole parade of younger starlets seemed constrained by extreme décolletage, moving stiltedly, lest they too risk wardrobe malfunctions. At one point during the red carpet pre-show, even the fashion-forward Sarah Jessica Parker was caught on camera (from the back) bending over in an apparent attempt to reposition her upper body into her Dolce & Gabbana — in a move familiar to most women.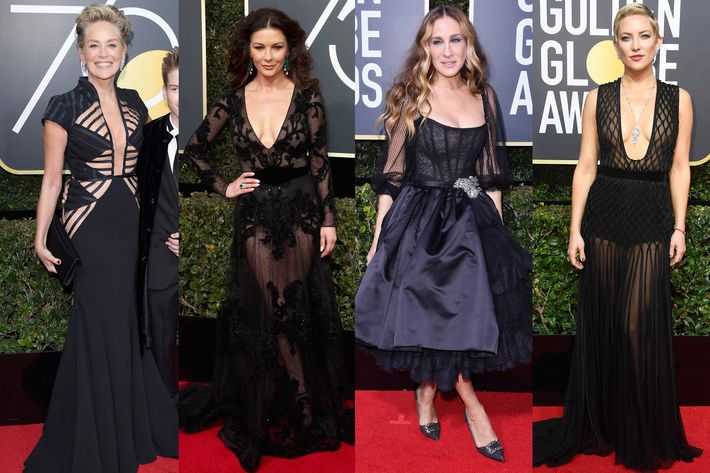 As ever, women's shoes too, created awkwardness and mobility issues. During both the red carpet and the awards ceremony, many of those women firmly calling for gender parity needed a man's steadying hand to help them navigate, in their teetering stilettos, the few stairs leading to a stage or podium.
It's worth noting too the more elegant outfits that fit their wearers with less precarity: In her off-the-shoulder, fitted lace and taffeta number by Ralph & Russo Couture, Penelope Cruz had the air of a noblewoman in a painting; ditto for Christina Hendricks who conjured John Singer Sargent in her Christian Siriano trouser-skirt combination, with striking asymmetrical neckline.
Only Frances McDormand, with her cropped hair, lack of visible makeup, and oversize smocklike outfit (which looked navy rather than black to many viewers), seemed to stand out. McDormand was the very picture of refusal, offering at least one possible alternative to the dictates of the red carpet.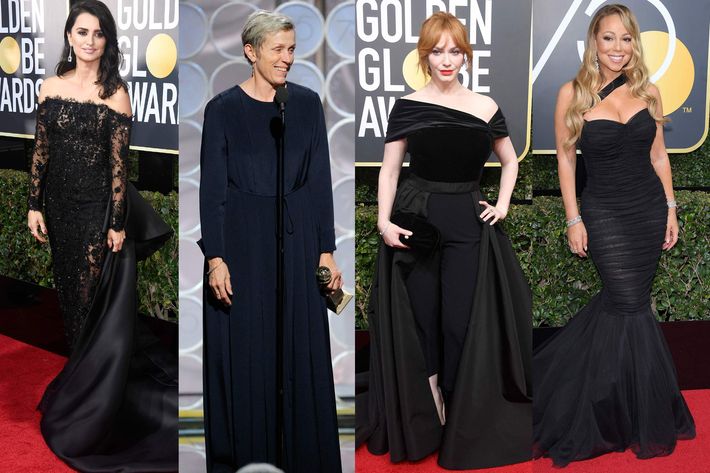 Extravagantly adorned feminine beauty is surely one of the main reasons why millions around the world tuned into the Golden Globes last night, and why awards shows continue to exist in general. The film and television industries were arguably built, and remain powered by, precisely this kind of display. It's neither wrong nor necessarily sexist or misogynist to enjoy human beauty, or its enhancement via fashion. This is an ancient human pleasure, at once aesthetic, psychological, and erotic. But we cannot escape the underlying complications at stake in displaying women's bodies as a form of commerce and entertainment. And in the particular case of this year's Golden Globes, with its outspoken agenda, we cannot avoid acknowledging the irony that there is, yes, a connection to be drawn between the sexual abuse and exploitation of women by a largely male-dominated industry and that industry's insistence on presenting women as (often denuded) objects of delectation. The culture of feminine display is inextricable from the culture of abuse.
Does that mean that feminine display causes abuse? Of course not — that is the "she had it coming" excuse. Is that all there is to Hollywood? Of course not; cinema is a serious art. Would changing women's fashions put an end to sexism and abuse? No, although it might mitigate certain inequities of comfort and cost. But at the same time, it is not wrong to question why we still turn a ceremony rewarding talent and artistry into yet another beauty-pageant-style parade of bared female bodies, hyperdisciplined by exercise regimes, and in impossibly constricting and denaturing get-ups (while the male talent bounds around in easy suits, slight paunches, and walkable shoes). It seems especially valid to ask these questions today, in the wake of an event billed as a moment of fashion activism.