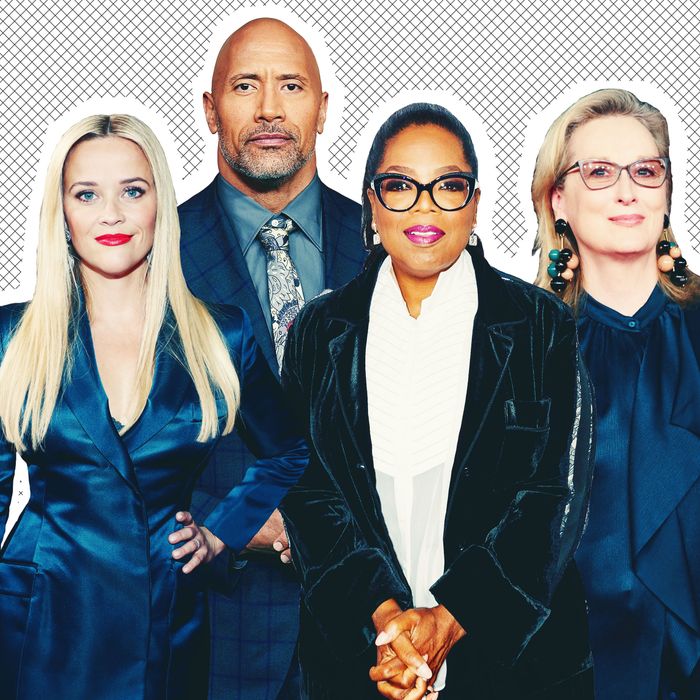 In recent years, viewership for awards shows has dropped — last year's Emmys received the second-lowest ratings on record, and viewership for the 2017 Oscars hit a nine-year low. This lack of enthusiasm is usually easy to understand — the shows drag on for hours, the jokes are lame, and Meryl Streep always wins anyway. But Sunday night at 8 p.m. ET, the Golden Globes will be different.
Over the past few months, women in Hollywood have been exposing the seedy underbelly of their industry, and in doing so revealing what's really behind the picture-perfect version of Hollywood we see on TV, movies, and the red carpet. And now, after this deluge of accusations and condemnations, these same stars will come together for what will surely be a dramatic night. Here's why you should tune in:
For the all-black red carpet
Last month, a group of actresses including Emma Stone, Meryl Streep, and Jessica Chastain announced they would be wearing black to the Golden Globes in order to protest sexual harassment in Hollywood. The blackout expanded after the organizers of Time's Up, a new initiative formed by 282 women in the entertainment industry to combat sexual harassment in the their industry and in blue-collar industries, also invited women to wear black on the red carpet in order to raise awareness about the movement.
"This is a moment of solidarity, not a fashion moment," actress Eva Longoria told the New York Times.
Men have also announced their plans to wear black. In an Instagram post, stylist Ilaria Urbanati confirmed that all of the men she was dressing — including, reportedly, Dwayne "the Rock" Johnson — would be wearing black in solidarity with Hollywood's women.
While some have questioned how big a statement this actually is (men usually wear black to awards shows anyway), it will be interesting to see how stars choose to interpret this sartorial political statement: How soberly will they dress? How many fashion-y political slogans will make their way down the red carpet? And how many will choose to forego the blackout altogether?
For the unpredictable statements
Entertainers often use their acceptance speeches to make political statements (Meryl Streep slammed President Trump in her Oscar acceptance speech last year, and Nicole Kidman used her acceptance speech at the 2017 Emmys to talk about the issue of domestic abuse). Given the socially and politically tense moment we find ourselves in right now, this year's Golden Globes will most certainly include a number of powerful speeches you'll want to watch.
And things should get interesting even before people get inside. While red-carpet interviews are usually bland opportunities for celebrities to talk about their work, who they're wearing, and what they plan to eat after the show, on Sunday, almost every question will be about sexual harassment in Hollywood. Expect some tears, angry rants, calls to action, and lots of barely contained rage.
For the inevitable fumbles
With so many questions about sexual misconduct, it can only be a matter of time before someone says something remarkably tone deaf, awkward, or miscalculated. Plus, most of the stars walking down the red carpet have worked with and/or are friendly with some of the men recently accused of sexual misconduct. How will they handle questions about this? Will they defend the accused? Dodge the questions? Pretend not to know them?
Above all, Sunday's broadcast will be a telling look into how Hollywood will handle issues of sexism and sexual misconduct moving forward. Will we see signs of a significant shift toward greater gender equality in Hollywood? Or will it just be an opportunity for celebrities to earn woke points by wearing glamorous, expensive, black outfits? Either way, it will certainly be worth watching.