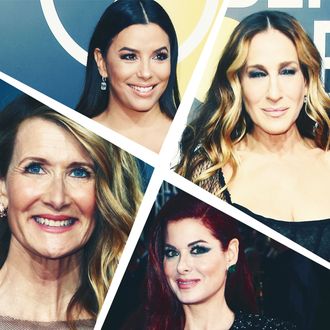 E! took a lot of hits at this year's Golden Globes.
As stars made their way down the red carpet — dressed in black to support Time's Up, Hollywood's new women's initiative to combat gender discrimination — many made a point to call out the network for allegedly failing to pay its own hosts equally.
A few weeks ago, former E! News correspondent Catt Sadler announced that she was leaving the network because of a "massive" pay gap between her and her male co-host Jason Kennedy. "When E! reached out to renew and extend my deal, I learned that he wasn't just making a little more than I was. In fact, he was making close to double my salary for the past several years," Sadler wrote in a letter about her departure.
On the Golden Globes' red carpet, actors spoke out about Sadler's treatment in interviews on E!, leading to some … awkward moments on camera. "We're here for Time's Up, we support gender equity and equal pay, and we hope that E! follows that lead with Catt as well," Eva Longoria told E! News' Ryan Seacrest, while standing between Nicole Kidman and Reese Witherspoon. "We stand with you Catt."
Longoria was not alone in her criticism. Earlier in the evening, Debra Messing told E!'s Giuliana Rancic:
"I was so shocked to hear that E! doesn't believe in paying their female co-hosts the same as their male co-hosts. I miss Catt Sadler, and we stand with her. And that's something that can change tomorrow. We want people to start having this conversation that women are just as valuable as men."
Later, Laura Dern added to the roast, telling Seacrest:
"We need the powers that be, and all the industries, and all the networks, and E!, to help us with closing this pay gender gap."
She also added "50/50 by 2020!" a reference to the Time's Up working group focused on reaching gender parity in Hollywood by 2020.
And Seacrest wasn't in the clear yet. "Equality, parity and safe work environments for men and women across all industries are key," Sarah Jessica Parker told him, before putting her hands on his shoulders and saying, "I know it's affected your network."
In summary, happy Golden Globes to everyone except E!.