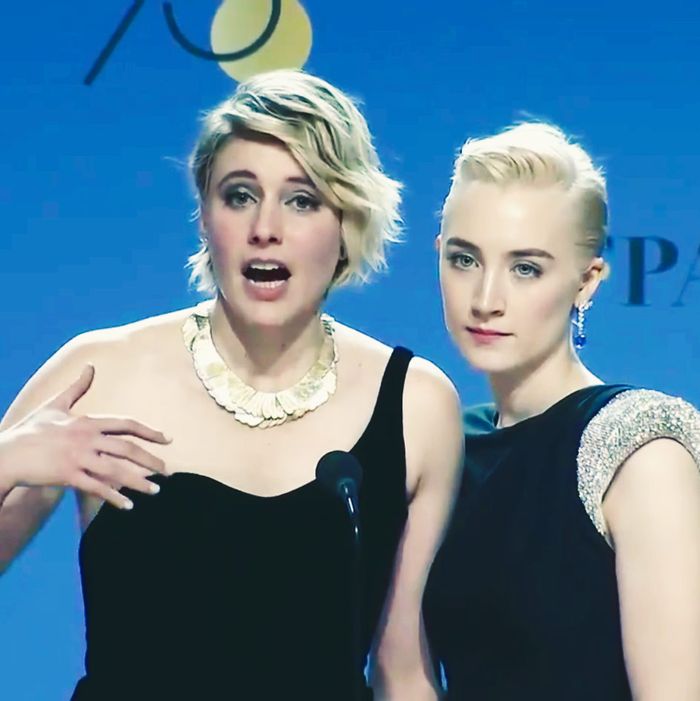 Greta Gerwig and Saoirse Ronan.
Shortly after her film Lady Bird won the Golden Globe for Best Musical or Comedy, director Greta Gerwig was asked during a backstage press interview whether she regretted having previously worked with director and alleged sexual abuser Woody Allen. Gerwig appeared in Allen's 2012 film To Rome With Love, and while it remains unclear how she feels about this decision, we can definitively confirm that she did in fact say some words:
Well, you know, I'm so thrilled to be here tonight as a writer, and director, and creator, and to be making my own movies and to be putting that forward. You know, it's something that I've thought deeply about, and I care deeply about, and I haven't had an opportunity to, um, have an in-depth discussion where I come down on one side or another. It's something that I've definitely taken to heart, and honestly, my job right now, I think, is to occupy the position of writer and director, and to be that person, and to tell these stories.
Ah. Well, that settles that.
Gerwig is not the first celebrity to avoid giving a direct answer about their work with Allen, who was accused by his adoptive daughter, Dylan Farrow, of molesting her while she was a girl. In November, while doing press for her work in Allen's latest film, Wonder Wheel, Kate Winslet gave an equally mealymouthed response when asked about the director's past: "At the end of the day, you look at the facts. He's an 81-year-old man who went through a two-year court case. As far as I know, he wasn't convicted of anything. I'm an actor; he's a director. I don't know his family. I've heard and read exactly what you've heard and read. I know as much as you do. That's all I can say."
Watch Gerwig's full nonanswer below.