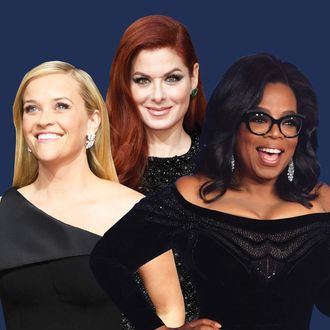 Reese Witherspoon, Debra Messing, and Oprah.
Any apprehension I felt about how actresses would handle the complicated red-carpet dance at the decidedly political Golden Globes melted away when I watched Debra Messing absolutely hand it to E! News on the red carpet last night. Early on in the network's coverage, Messing stepped up to the mic and delivered a direct, impassioned rebuke of the company's leadership for failing to pay its former host Catt Sadler as much as her male counterpart.
"I was so shocked to hear that E! doesn't believe in paying their female co-hosts the same as their male co-hosts," she said, right to Giuliana Rancic's face. "I miss Catt Sadler, and we stand with her." After that, we were off.
You can argue about whether an awards show red carpet is the ideal place to discuss sexual harassment, abuse, and the pay gap, but last night, women — especially those directly involved in the Time's Up initiative — showed up ready and willing to do so. Eva Longoria, Sarah Jessica Parker, and Laura Dern joined Messing in making pointed comments to E! about Sadler's recent departure. And over at NBC, Kerry Washington made a clear, electrifying argument as to why women were showing up to a stupid awards show in the first place, given everything that has been revealed about Hollywood in the last three months. "We shouldn't have to sit out the night," she said. "We shouldn't have to give up our seat at the table, our voice in this industry, because of bad behavior that wasn't ours."
If only men were so prepared. Compare Washington's response to this pitiful display from Stranger Things actor (and Globes nominee!) David Harbour, who had no idea why he was wearing a Time's Up pin.
"Real quick, time's up on blank," ABC host Laura Spencer asked Harbour, pointing to his pin. "Uhhh … " he responded. "Time's up on … " After Spencer prompted him with answers like "sexual harassment" and "predators," Harbour settled on "women not getting the respect they deserve in the workplace." Thanks?
Minutes later, Globe nominee Liev Schreiber used his red-carpet interview with NBC to complain that Delta lost his luggage on the way to Los Angeles.
During the ceremony, this trend of women's preparedness and male ineptitude and cluelessness continued. With the exceptions of host Seth Meyers, who was paid to be prepared, and This Is Us' Sterling K. Brown, who delivered a moving speech about the importance of developing roles for people of color, men refrained from discussing any important issues onstage. Take the case of Big Little Lies: Stars Reese Witherspoon, Laura Dern, and Nicole Kidman all prepared speeches tying the themes of their show to the goals of the Time's Up initiative.
When accepting her award for best supporting actress, Dern referenced her character's struggle to get justice for her bullied daughter, and said, "May we teach our children that speaking out without the fear of retribution is our culture's new North Star."
Big Little Lies' Alexander Skaarsgård had considerably more trouble putting words together when he won for best supporting actor. He could have discussed his character's storyline, which involved domestic abuse, but instead, he struggled to figure out how to thank his female co-stars. "[I want to thank] our extraordinary cast, who are all here, especially Nicole," he said. "Not that you're, like, more talented than the other girls. I say 'especially Nicole' because most of my scenes were with Nicole."
At least, in the moment, he tried. When James Franco and Aziz Ansari accepted their acting awards, they barely mentioned any women at all. Both gave shout-outs to long lists of guy friends and then remembered to thank their mothers at the end.
How celebrities behave at awards shows is not a matter of national importance. But I think it speaks to the current moment that women chose to use the stage to elevate the discourse and draw attention to systemic inequality. (It feels rude to compare any living person to Oprah, but of course, she did the most work here.) Men, meanwhile, got to relax. Have a drink. Thank their bros. Hopefully not for much longer.