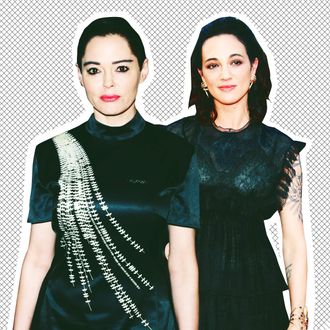 Rose McGowan and Asia Argento.
Photo: Getty Images
Speaking out about systematic sexual harassment was the main theme of the 2018 Golden Globes — actresses and actors wore black in protest, some brought activists as their dates, and the Time's Up initiative was touched upon in several speeches and red carpet soundbites. But Rose McGowan and Asia Argento — two of the most vocal Harvey Weinstein accusers and Hollywood advocates on the issue — had some criticisms of the event. (Neither of them attended.)
When Argento commended McGowan for breaking the silence on Weinstein, McGowan replied with a tweet deriding "Hollywood fakery" early in the evening. "And not one of those fancy people wearing black to honor our rapes would have lifted a finger had it not been so," McGowan wrote. "I have no time for Hollywood fakery, but you I love, .@AsiaArgento #RoseArmy."
McGowan has also aired her critiques of the planned Golden Globes protest in the past. "Actresses, like Meryl Streep, who happily worked for The Pig Monster, are wearing black @GoldenGlobes in a silent protest. YOUR SILENCE is THE problem," she wrote in a now-deleted tweet back in December. "You'll accept a fake award breathlessly & affect no real change. I despise your hypocrisy. Maybe you should all wear Marchesa."
Then, on Monday morning, Argento replied to another tweet questioning why she and some other accusers hadn't been at the Globes.
"I can only speak for myself but not only I wasn't invited to the #GoldenGlobes: nobody asked my opinion about #TIMESUP or to sign the letter," Argento shared. "I support @TIMESUPNOW even though I was excluded from it. Guess I am not POWERFUL or HOLLYWOOD enough. Proud to work behind the scenes."
She added that sexual-abuse survivors were "personae non gratae" at the Globes.