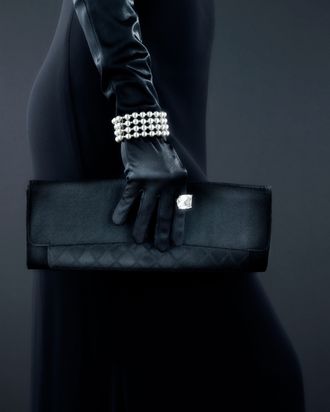 Photo: Colin Anderson/Blend Images/Getty Images
When it was announced, in early December, that Hollywood actresses will wear black to the Golden Globes in protest of sexual harassment, we had so many questions. Would this gesture translate to action? Does it support women, or further police their fashion choices? Should men show up naked? And finally, in a post-Weinstein world, will evaluating what women wear on the red carpet feel like harmless fun again? Should it ever have? One thing is clear: This will be an awards season for the books.
After mulling all this over, the Cut has decided to disrupt its red-carpet routine as well. This Sunday, although we will definitely be watching the Golden Globes, we will not be ranking the "best," "worst," or even "weirdest" red-carpet looks. Instead, we will only identify which designers dressed which actresses, in whatever colors they choose to wear, because that feels like relevant information. Ultimately, we're doing this out of respect for the cause and in acknowledgement that, well, the game has changed. At least for one night.
The call to wear black, as we've recently learned, is just one piece of a much larger Hollywood initiative called Time's Up, which was detailed in an open letter in the Times on January 1 and co-signed by 300 female-identifying actors, agents, writers, directors, producers, and entertainment executives. Among other actions, including a $13 million legal defense fund, it hopes to shift focus on the Golden Globes red carpet in particular, and encourages actresses to "speak out" and "raise awareness" about this specific cause.
Despite Hollywood's overwhelming support for Time's Up, responses to wearing all black were, and still are, mixed. "Wearing black to a black-tie event is like spilling a bottle of water into a river," wrote one Twitter user on the subject. (This rings especially true for male actors, who are also said to be joining the movement.)
Actress Rose McGowan has been critical of the decision to wear all black from the outset, calling it a "silent" protest. "You'll accept a fake award breathlessly and affect no real change," she tweeted on December 16, although the post has since been removed. "I despise your hypocrisy," she added. "Maybe you should all wear Marchesa."
"It reads like the proper response to sexual harassment is to change one's attire," wrote fashion critic Robin Givhan on the subject. After the Time's Up initiative was announced, she followed up on Twitter by suggesting that "maybe it would be more powerful if actresses went out and bought a dress – black, pink or otherwise," as opposed to "being dressed."
Fashion can serve whatever need or desire you want it to, but the fact remains that it is a costume. Wearing black does not inherently make you an ally; it makes you look like someone whose stylist helped you look like an ally. In evaluating the merit of these fashion choices, we are then complicit in saying there's nothing more to it than that. This year, to rank red-carpet looks is to say, Activism looks good on you. Or worse, It doesn't.
On the flip side, one could argue that sending any message about protesting sexual harassment, by any means, is progress — especially if millions of people all over the world are tuning in. If conversations on the red carpet tend to focus on what celebrities are wearing anyway, why not use this platform to talk about something more important? And in doing so, force media to do the same. In 2014, the documentary filmmaker, actress, and founder of The Representation Project, Jennifer Siebel Newsom started the hashtag #AskHerMore for this exact reason.
At the end of the day, a coordinated fashion effort of this scale has never been attempted before, and its possible impact, as well as its total disruption of traditional media coverage during and after the main event, should not be underestimated. It took an explosive story like the Times piece on Harvey Weinstein to finally (finally!) wake us up to the pervasiveness of sexual harassment. Perhaps this red-carpet blackout will not only reinforce these issues, but also force us to reckon with what it means, in 2018, to make a sport out of judging women's appearances. Maybe time's up on that, too.