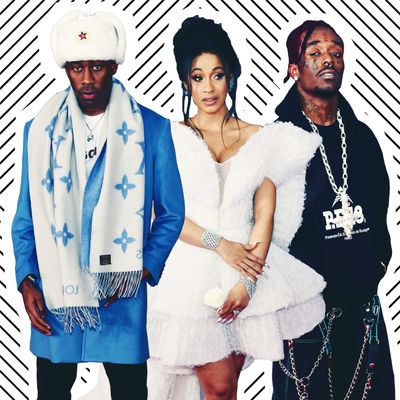 Tyler the Creator, Cardi B, Lil Uzi Vert.
Photo: Getty Images
The 2018 Grammy Awards may have failed to organize a disruptive political movement like the all-black Golden Globes red carpet, but the show was disruptive in its own way. Per usual, attendees broke all the rules when it came to fashion, wearing everything from Hot Topic-inspired pants to wedding dresses with fetuses painted on them.
E! hosts Giuliana Rancic and Ryan Seacrest could hardly keep up with all the unscripted authenticity that the red carpet threw them this year, most notably Lil Uzi Vert's lack of enthusiasm for the whole thing. The 23-year-old rapper gave one of the most memorable interviews of all time when Rancic asked him what he was going to do if he won. "I'm going to think about everything I'm going to buy the next day," he replied, name-dropping Russian designer Gosha Rubchinskiy.
Lil Uzi Vert didn't win, but Sunday night was definitely a win for fashion. Below, our top ten favorite moments.
Hot Topic Was Huge
Everyone's favorite emo emporium is having a moment again thanks in part to the personal style of musical artists like Jaden Smith and Lil Uzi Vert. You can buy pants like Uzi's right here, right now.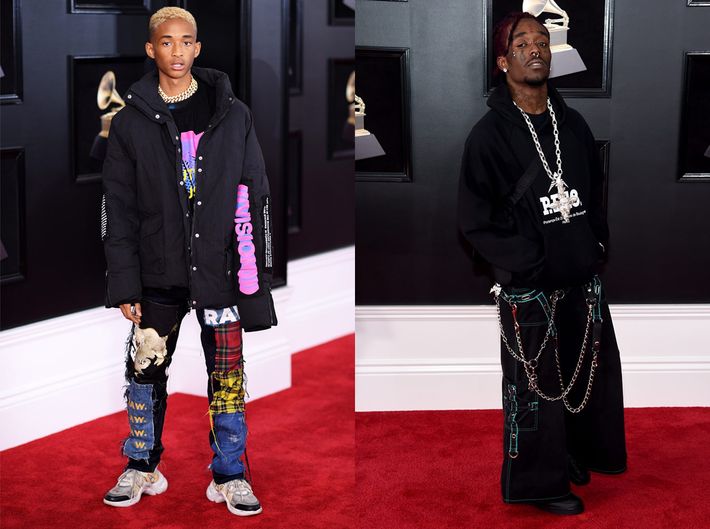 There Were So Many Pantsuits
These were not your average black tuxedos, though. Each pantsuit had its own personality. Kesha, for example, paid homage to her western roots, while Alessia Cara kept it casual with a T-shirt and Converse.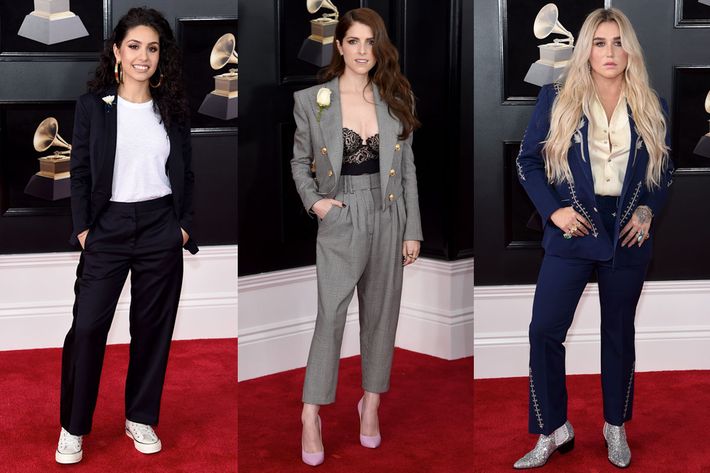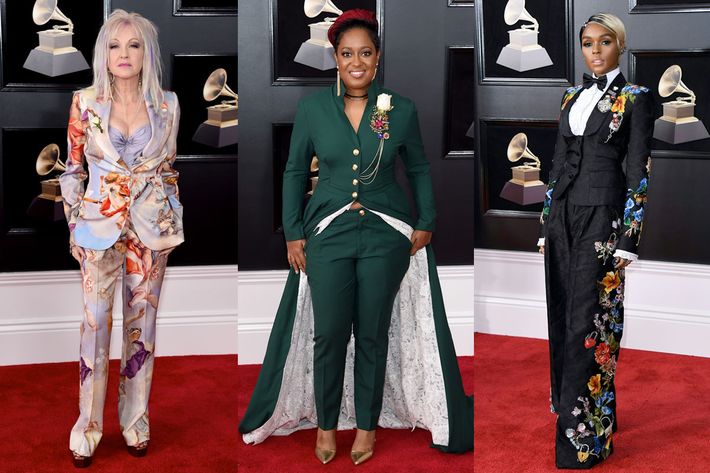 Cardi B Wore a Wedding Dress
As the 25-year-old bride-to-be told Giuliana Rancic, she and her fiancé Offset haven't started planning their wedding yet because they're too busy making music. So why not do a few practice runs on the red carpet in the meantime? Cardi B wore a dramatic wedding dress by Ashi, and of course, Christian Louboutins.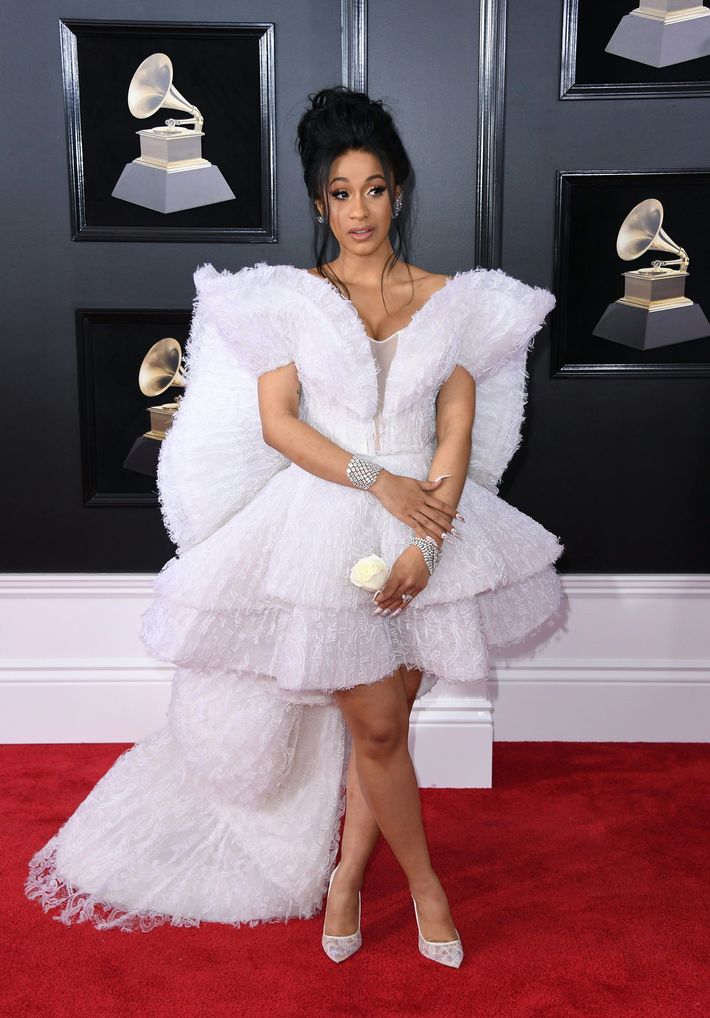 Lady Gaga Brought Bustles Back
We like big Giorgio Armani bustles, and we cannot lie. (You don't want to miss Gaga's hair, either.)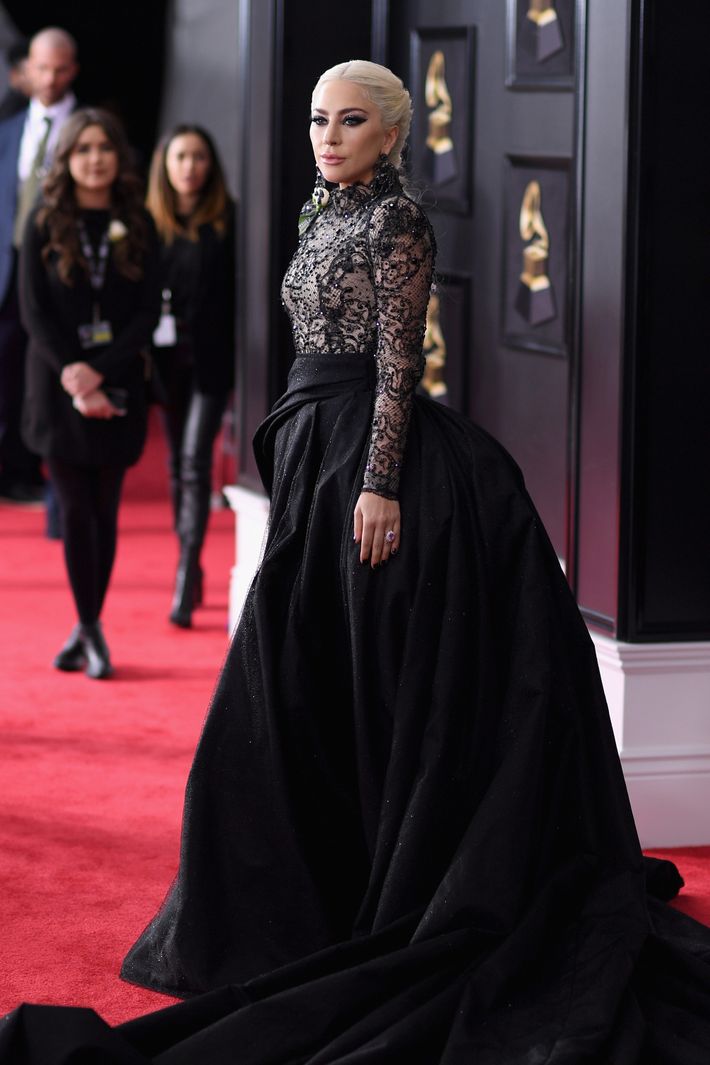 Even the Scarves Were Fun
Tyler the Creator wore a Louis Vuitton monogrammed scarf, plus a Russian ushanka hat and his own Converse that read "double my luggage." Meanwhile, Mick Fleetwood wore a graphic scarf with his own face on it.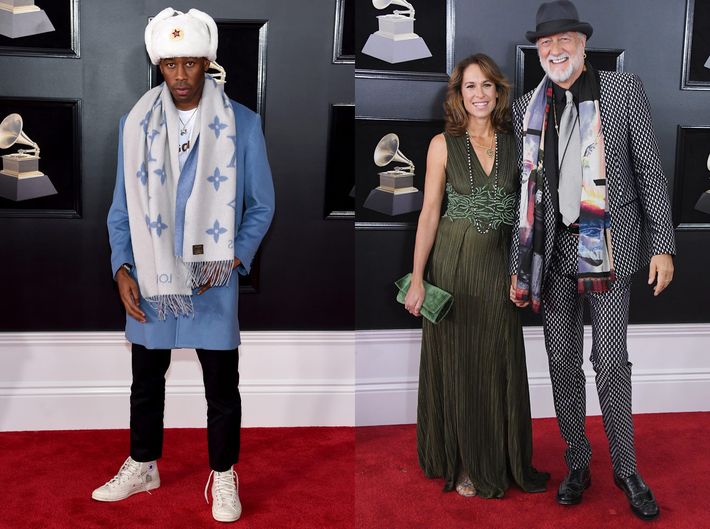 Asahd Khaled Looked Like a Red Velvet Cupcake
The busiest baby in hip-hop never fails to disappoint.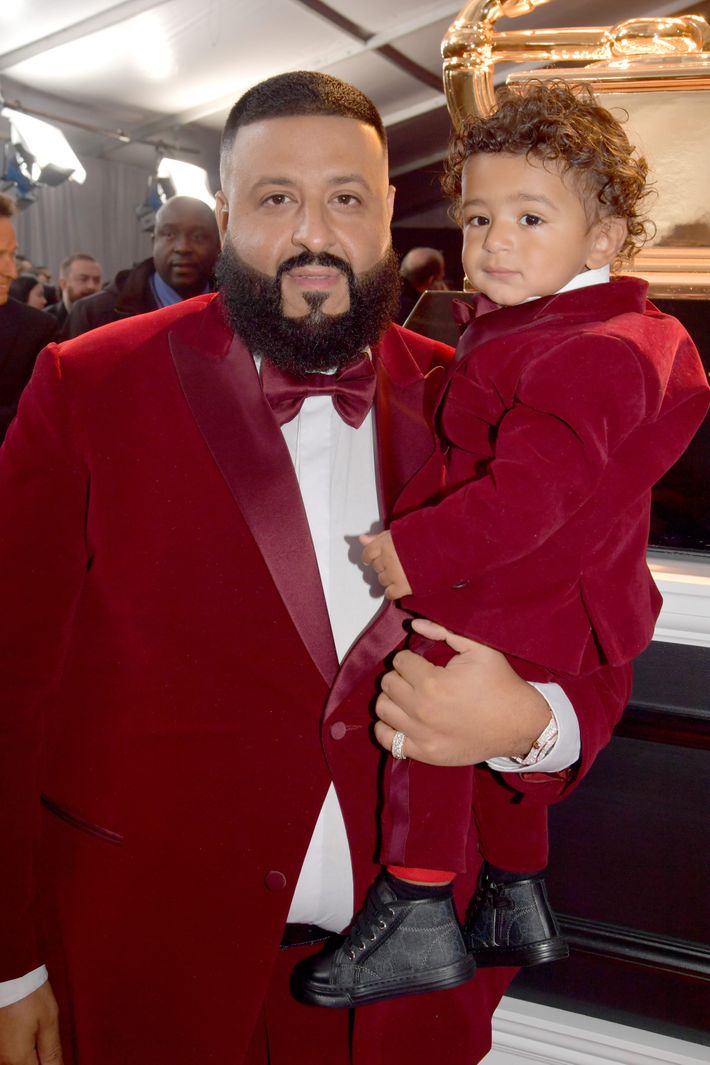 Elton John Wore Gucci Sunglasses
Gucci is designing all the wardrobe for the 70-year-old icon's "Farewell Yellow Brick Road" tour.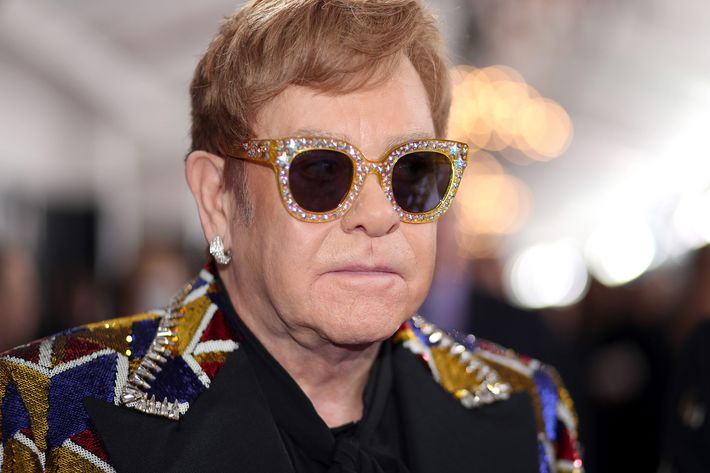 Lana Del Rey Nailed Old Hollywood
Twitter speculated that Del Rey's Gucci look was perhaps an homage to Old Hollywood actress (and STEM heroine) Hedy Lamarr. Lamarr wore a similar look in the 1941 film Ziegfeld Girl, created by the legendary costume designer Adrian.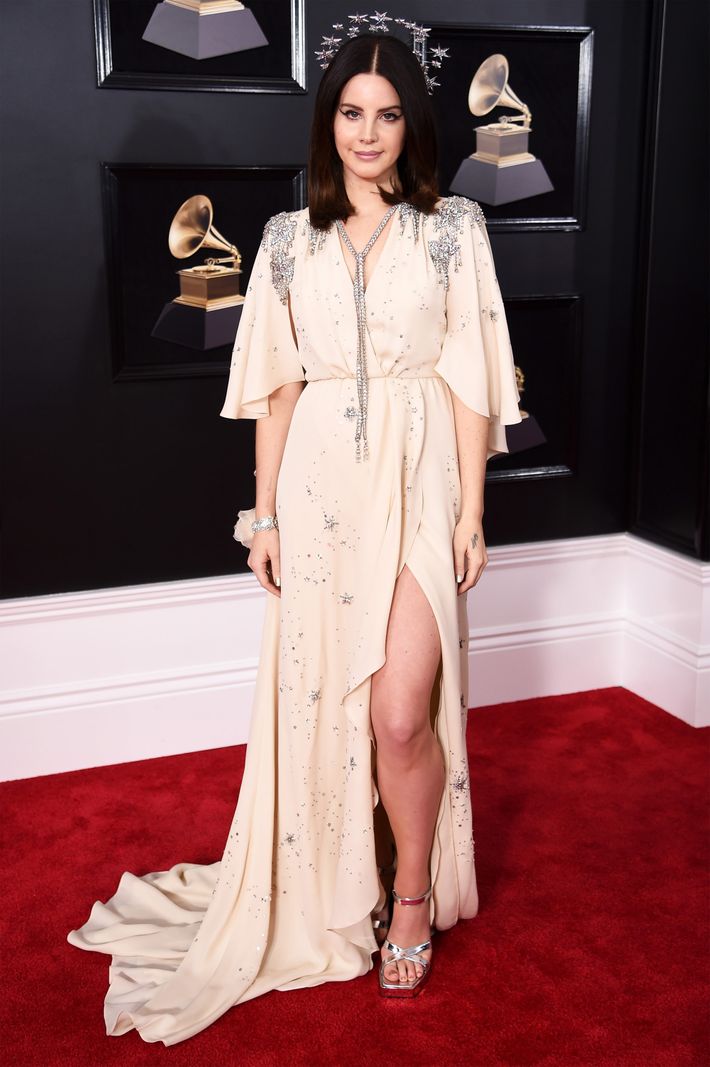 Camila Cabello Paid Homage to an Emoji
"I try to channel the flamenco emoji for as many events as possible," wrote the singer on Twitter.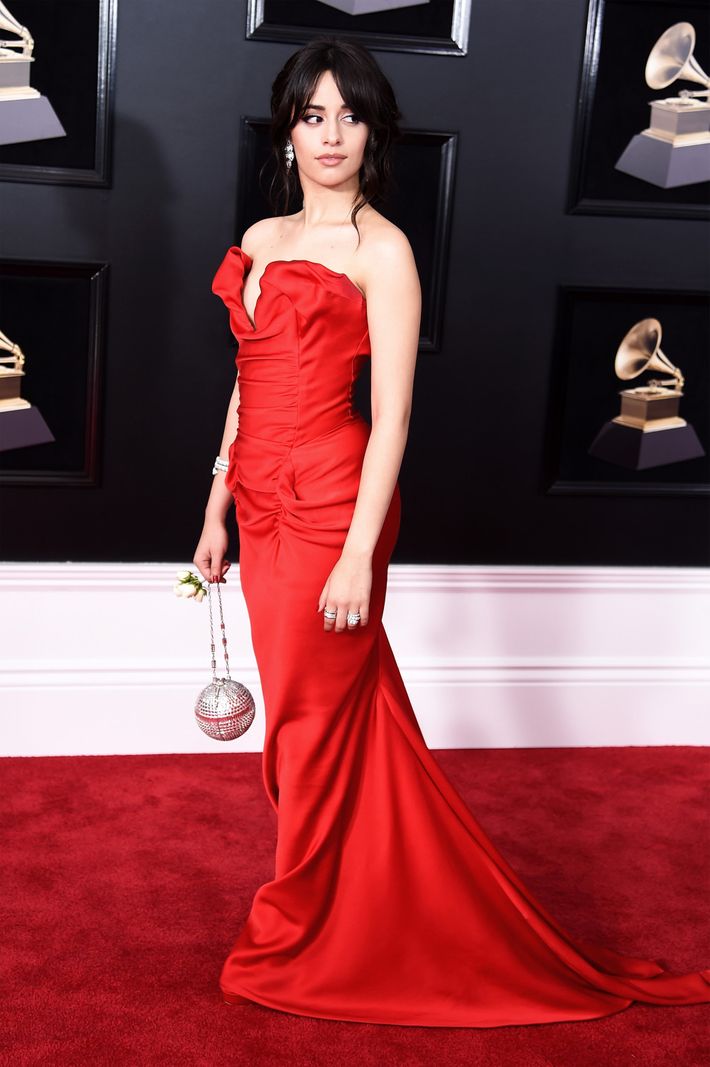 There Were Men in (Not) Black
We were most impressed with the 19-year-old Khalid, who wore not one but two colors, pairing a green turtleneck with a light purple suit.