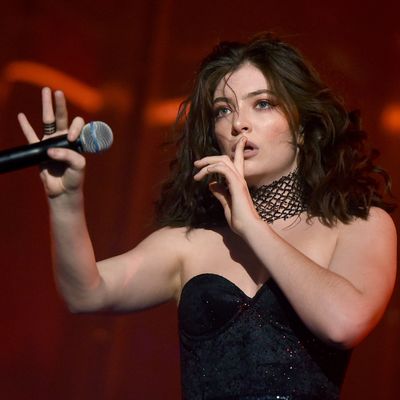 Lorde.
Photo: Kevin Winter/Getty Images for Coachella
Lorde is one of five musicians to receive a coveted nomination for the Grammys' Album of the Year in 2018 — alongside the talented likes of Childish Gambino, Bruno Mars, Jay-Z, and Kendrick Lamar. (Who will prove to be victorious?) As is the custom for nominees in the category, each artist performs a song or medley from their respective albums, and more often than not they choose to take the stage solo. However, according to a new report from Variety, Lorde wasn't given that opportunity at all.
Per the publication, the songstress was only offered to be part of a group tribute to Tom Petty involving the song "American Girl," an offer that she declined. (Perhaps owing to the fact that she's, you know, from New Zealand.) Instead, the four men in her category were reportedly offered solo spots by the Grammys, although the official website is only confirming performances by Kendrick Lamar, Childish Gambino, and Bruno Mars. (Mars will be performing "Finesse" with Cardi B.) While Lorde hasn't commented on this potential slight, her mother sent an interesting tweet about the Grammys two days ago.
"Of the 899 people to be nominated for Grammy awards in the past six years, only nine percent were women," Sonja Yelich's photograph of a recent New York Times article read. Take that as you will.