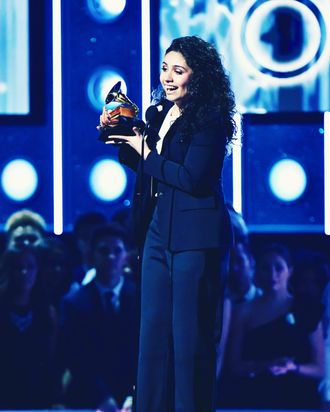 Alessia Cara.
Photo: Jeff Kravitz/FilmMagic
Very few women went home with a Grammy last night. And, according to Recording Academy president Neil Portnow, the way to solve that problem is through women stepping up.
Alessia Cara was the only woman presented with a televised Grammy, taking home the award for Best New Artist; Lorde, the only female nominee for Best Album, was reportedly not offered a performance, while her male counterparts were; SZA, who was nominated in five categories, won none of them.
But all of that is just coincidence, according to Portnow, who told Variety:
It has to begin with … women who have the creativity in their hearts and souls, who want to be musicians, who want to be engineers, producers, and want to be part of the industry on the executive level … [They need] to step up because I think they would be welcome. I don't have personal experience of those kinds of brick walls that you face, but I think it's upon us — us as an industry — to make the welcome mat very obvious, breeding opportunities for all people who want to be creative and paying it forward and creating that next generation of artists.
Grammys producer Ken Ehrlich said that it wasn't his place to answer questions about gender inequality because he merely "produces the TV show." When asked about Lorde not getting a spot on the aforementioned TV show, he said, "She had a great album. There's no way we can really deal with everybody."
This post has been updated to reflect that Alessia Cara was the only woman to win a televised Grammy award.