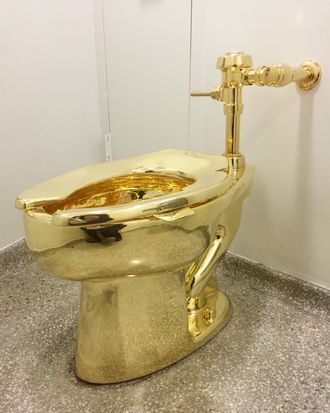 "America."
Photo: WILLIAM EDWARDS/AFP/Getty Images
Perhaps nobody is a bigger fan of gold than U.S. president Donald Trump — golden hair, golden décor, golden showers, you name it. So I can't, for the life of me, figure out why he didn't want this nice gold toilet, generously offered to him by the Guggenheim museum.
According to a new report from the Washington Post, on September 15, the museum's chief curator, Nancy Spector, sent the White House an email denying their request to borrow a Van Gogh painting for Donald and Melania's private quarters. "Landscape With White Snow," she explained, was "prohibited from travel except for the rarest of occasions." Instead, she offered them an "interactive piece" called "America," which is a fully-functional, 18-karat gold toilet.
"It is, of course, extremely valuable and somewhat fragile, but we would provide all the instructions for its installation and care," Spector wrote.
"America," was on display at the Guggenheim for a year. Installed in a public restroom on the fifth floor of the museum, guests would line up for the chance to place their bare bottoms on the solid gold toilet. (A special crew would come in every 15 minutes to wipe it clean.)
For some reason, the White House never responded to Spector's offer.
When asked about the meaning of "America," its creator, Maurizio Cattelan answered: "What's the point of our life? Everything seems absurd until we die and then it makes sense."
So we have that to look forward to.