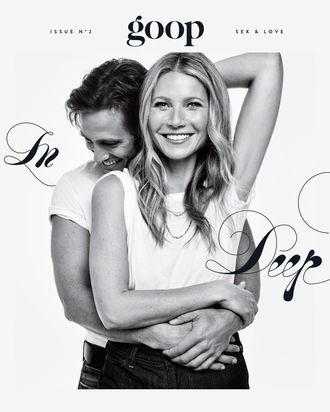 Gwyneth Paltrow and Brad Falchuk.
Photo: Steven Pan /Courtesy of Goop
Shortly after recommending that you put coffee in your butt, Gwyneth Paltrow has returned with some more exciting news: she's getting married to Brad Falchuk.
The couple, who started dating in 2014, were rumored to have gotten engaged back in November. Paltrow waited to announce the news herself in the cover story of the "Sex & Love" issue of Goop Magazine, which hits newsstands on January 9. (Paltrow announced that she was consciously uncoupling from ex-husband Chris Martin on her site back in 2014.)
"Personally, at midlife, I have tried to accept how complex romantic love can be. I have decided to give it a go again, not only because I believe I have found the man I was meant to be with, but because I have accepted the soul-stretching, pattern-breaking opportunities that (terrifyingly) are made possible by intimacy," Paltrow writes of her choice to get married again.
This is the second issue of her print venture and features Falchuk embracing Paltrow while smiling and thankfully not covered in mud.