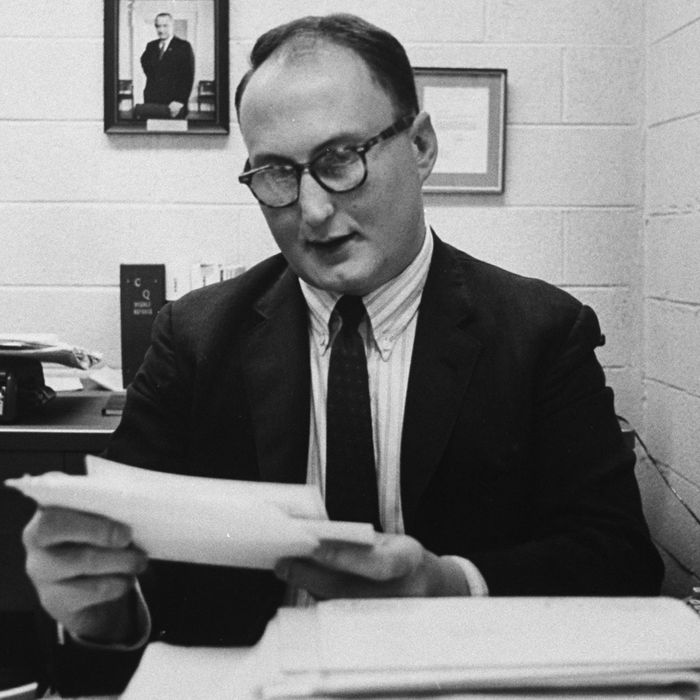 H. Brandt Ayers.
Photo: Francis Miller/The LIFE Picture Collection/Getty Images
In the wake of sexual-harassment allegations against a number of powerful men, a former reporter of the Anniston Star newspaper in Alabama is now accusing media magnate and former publisher H. Brandt Ayers of spanking female staffers.
Former Star reporter Veronica Pike Kennedy says that, back in the 1970s when she was only 22, Ayers — who was 40 at the time — spanked her against her will in the newsroom on a Saturday, when only a few other employees were present. Two other women, who declined to share their names on the record, also told the Star of similar spankings they allegedly endured from Ayers. Per the Star:
They say a pattern of forced spankings by the publisher, with sexual overtones, led women in the newsroom at the time to seek help from the newspaper's editors — who appointed a woman on staff to warn newly-hired women to watch out for Ayers.
Kennedy told the website Alabama Political Reporter that her spanking occurred after Ayers asked her to read an editorial he had written. "He said 'Oh, you're being a bad girl. I'm going to have to spank you,'" Kennedy said. Ayers then allegedly wrestled her out of her chair and spanked her hard with a metal pole 18 times.
Mike Stamler, another former Star reporter, was in the room at the time of the incident and confirmed Kennedy's account. Kennedy said she didn't come forward with her allegations until now because she didn't want it to negatively affect her career as a reporter — and feared her father would kill Ayers for the assault.
Ayers, who now serves as the chairman of the company that publishes the newspaper, told the Star in a statement: "As a very young man with more authority than judgment, I did some things I regret. At my advanced age I wish I could relive those days again, knowing the seriousness of my position and with the accumulated judgment that goes with age."