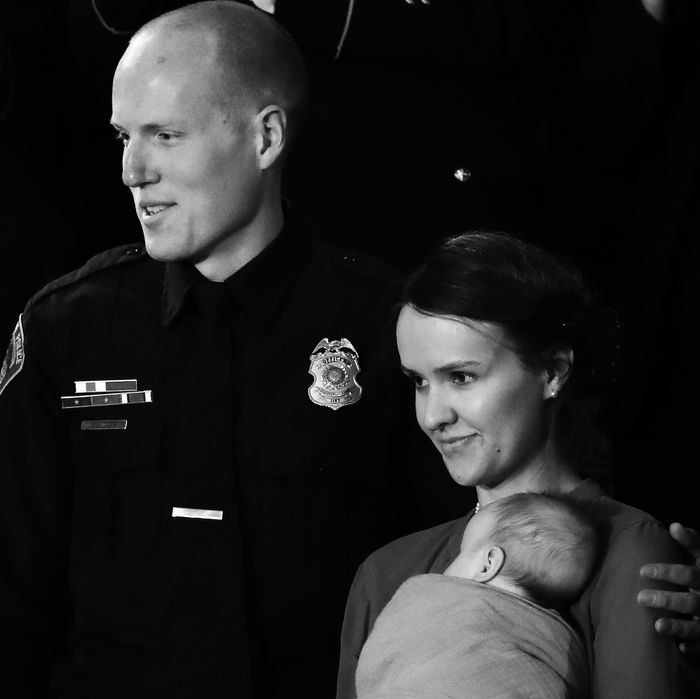 Melania Trump with Ryan Holets, Rebecca Holets, and Hope.
Photo: Chip Somodevilla/Getty Images
Three of the guests President Trump highlighted during the State of the Union were Ryan Holets, his wife Rebecca, and their adopted infant daughter, Hope.
Holets, an Albuquerque police officer, adopted Hope after meeting the baby's mother, Crystal Champ, when she was eight months pregnant, homeless, and preparing to use heroin, according to CNN.
After giving birth, Champ was reportedly offered free treatment, but instead opted to live on the street and continue using. Now, according to a GoFundMe page for the couple, Champ and her partner Tom Key are in a rehab facility. More than $9,000 out of $10,000 has been raised for the pair's recovery, according to a GoFundMe page.
Champ and Key say they are in recovery, and posted the following message on GoFundMe:
We just wanted to say thank you for all your prayer, praise, and financial help. But the truth is that Ryan is the true catalyst for everything that has happened. He is the one who deserves the praises (after God, that is). Thank you for everything.
The baby, Hope, is also reportedly doing well.
"She's gaining weight, eating well, sleeping well," Holets told the Washington Post last month. "We're just praying and hoping for the best for her. As far as development goes, we won't know the effects until she's older."
The Holetses gained national attention last month following a CNN report on their story. Watch that report here.