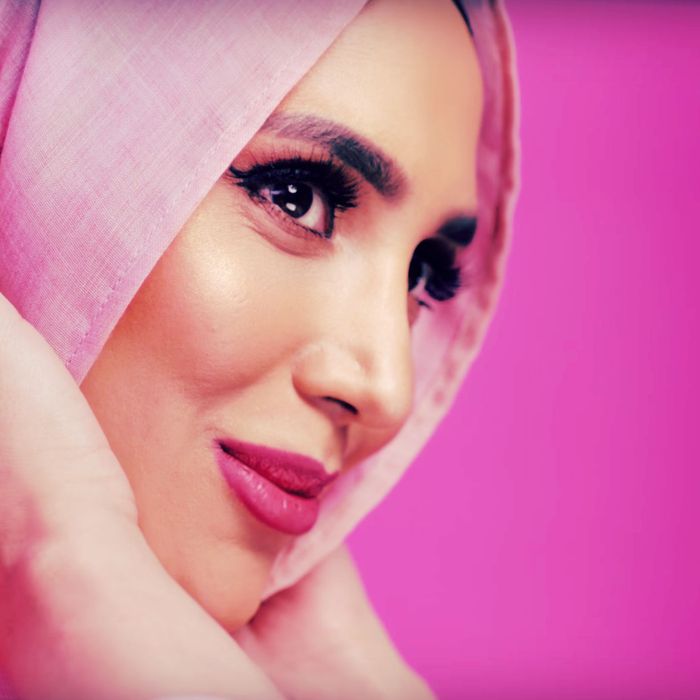 Amena Khan.
Photo: L'Oreal Paris/Youtube
Amena Khan is the first hijab-wearing woman to front a major hair campaign. L'Oréal Paris featured the British beauty blogger in a new campaign for their Elvive hair-care collection. Khan is featured alongside a cast of women talking about their hair-care concerns. In the ad, Khan says, "Whether or not your hair is on display doesn't affect how much you care about it."
In an interview with British Vogue, Khan explained that there is a presumption that women who don't put their hair on display don't care about it.
"The opposite of that would be that everyone that does show their hair only looks after it for the sake of showing it to others," Khan said. "And that mindset strips us of our autonomy and our sense of independence. Hair is a big part of self care."
Khan, who is a L'Oréal ambassador, may be unknown to Americans. But the blogger has her own line of head scarves, co-founded Ardere Cosmetics, and has nearly 320,000 YouTube subscribers and 570,000 Instagram followers.
Update – 12:00 p.m. EST: Following backlash surrounding old "anti-Israel" tweets, Khan is no longer a L'Oréal Paris U.K. brand ambassador. The BBC reports that Khan stepped down from the campaign after her tweets were discovered (they have since been deleted).
Khan apologized in an Instagram post stating, "With deep regret, I've decided to step down from this campaign because the current conversations surrounding it detract from the positive and inclusive sentiment that it set out to deliver."
A L'Oréal Paris U.K. spokesperson also told the BBC in a statement, "We appreciate that Amena has since apologised for the content of these tweets and the offence they have caused. L'Oréal Paris is committed to tolerance and respect towards all people. We agree with her decision to step down from the campaign."
This post has been updated.