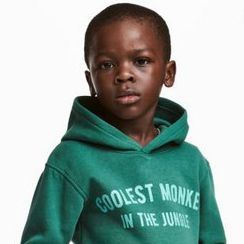 When the photo of a black child modeling H&M's "coolest monkey in the jungle" hoodie went viral earlier this month, the Weeknd, LeBron James, Sean "Diddy" Combs, G-Eazy and many others were quick to denounce the Swedish brand for its racial blind spot.
"All this tells me about H&M is that the seats in the boardroom lack something … wanna take a guess?" wrote the drummer, DJ, and music journalist Questlove on Instagram.
In South Africa, H&M stores were temporarily closed this week following protests inside and outside stores, which were organized by the Economic Freedom Fighters (EFF).
"Every shop that undermines black people must be attended to," said Julius Malema, the party's leader. "It must be shut down. It must be closed."
H&M swiftly responded by pulling the hoodie from its product offering and issuing an apologetic statement. "We believe in diversity and inclusion in all that we do and will be reviewing all our internal policies accordingly to avoid any future issues," the brand wrote.
As of late Tuesday, H&M's internal review has resulted in the appointment of a diversity leader. The brand posted on its Facebook page that its "commitment to addressing diversity and inclusiveness is genuine," and has appointed a "global leader, in this area, to drive [their] work forward."
H&M reiterated that the recent incident was "unintentional" but nonetheless demonstrated "so clearly how big [its] responsibility is as a global brand."
Meanwhile, the model, Liam Mango, and his family have reportedly been forced to move from their home in Stockholm for "security reasons."