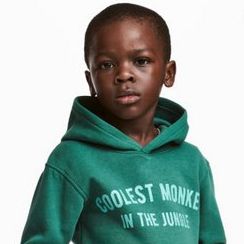 On Sunday night, New York Times columnist Charles M. Blow tweeted a photo of a black child modeling an H&M sweatshirt that reads, "Coolest monkey in the jungle." As of right now, a link to the product still appears to be live on the brand's website.
"H&M, have you lost your damned minds?!?!?!" Blow commented, presumably referring to the racist history of the word. The tweet has since received over 9,000 likes and numerous responses on social media.
"All this tells me about H&M is that the seats in the boardroom lack something … wanna take a guess?" wrote Questlove on Instagram.
Musical artist Abel Tesfay, who goes by The Weeknd and has collaborated with H&M in the past, also chimed in on the matter.
"Woke up this morning shocked and embarrassed by this photo," Tesfay wrote in a tweet on Monday. "I'm deeply offended and will not be working with H&M anymore." Tesfaye began working with H&M last year, modeling in their campaigns and collaborating with them under his XO brand.
H&M has since issued a statement to that reads:
We sincerely apologize for offending people with this image of a printed hooded top. The image has been removed from all online channels and the product will not be for sale in the United States. We believe in diversity and inclusion in all that we do and will be reviewing all our internal policies accordingly to avoid any future issues.
Update: H&M has posted the below statement on its official Instagram.