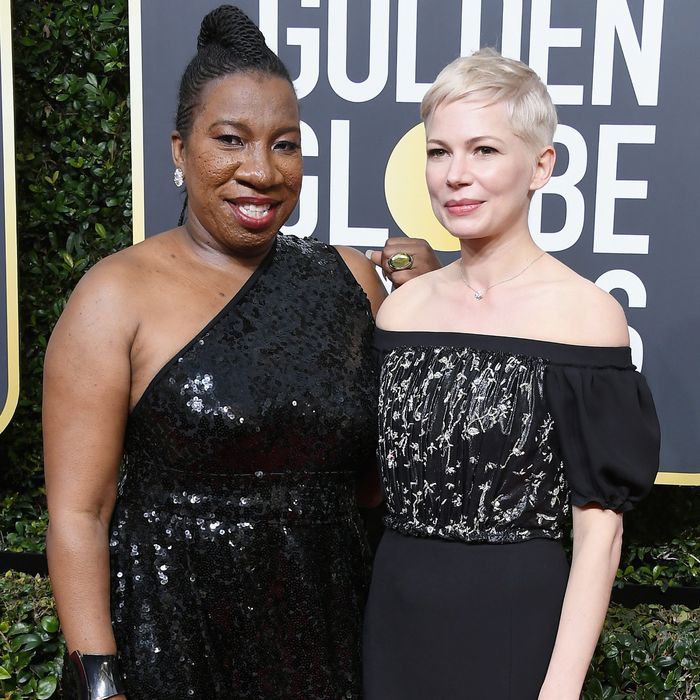 Tarana Burke and Michelle Williams.
Photo: Steve Granitz/WireImage
At the forefront of this year's Golden Globes is the issue of sexual harassment. Both actors and actresses are wearing black to protest against it and show solidarity with survivors. Several celebrities are also wearing pins reading "Time's Up" to promote the new initiative and legal fund created to aid working-class women dealing with the issue. And eight actresses chose to bring activists as their dates for the evening — for instance, Meryl Streep brought Ai-jen Poo, Susan Sarandon brought Rosa Clemente, and Michelle Williams came with Tarana Burke.
Burke is responsible for creating the "Me Too" campaign over a decade ago. Following the bombshell Harvey Weinstein allegations, #MeToo became a viral hashtag on social media, illustrating just how pervasive sexual harassment in the workplace is — but her red carpet interview on E! was conspicuously minimized as soon as she began talking.
Within four seconds of Burke being given the mic, the window showing her interview was shrunk down and moved to the lower left-hand corner of the screen. The rest of the screen was then devoted to showing other red carpet looks (in this case, Dakota Johnson posing in her dress). While this happened during other interviews, Burke — whose words became a vital rallying cry during this movement and watershed moment — could've been given the entire screen for the extent of her comments.
You can watch the clip of Burke's interview here:
Overall, doesn't seem to be a great night for the network.