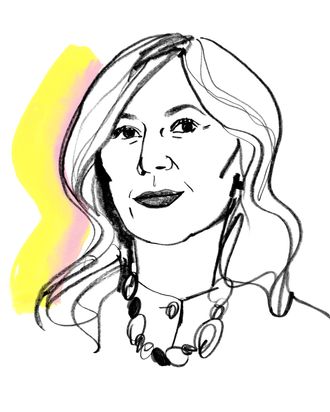 Illustration: Lauren Tamaki
Anastasia Soare is the founder and CEO of the brow and makeup line Anastasia Beverly Hills. She was raised in Romania, where she studied art and architecture, and immigrated to the United States at the age of 32. After landing a job as an aesthetician, she noticed the lack of attention women paid to shaping their eyebrows. She rented a room, began honing her craft, and soon launched an empire of brow products.
Despite her status as boss, Soare still clocks ten-hour work days, goes into the office on Saturday, and works through lunch. Her company, now 20 years old, has 300 employees, a booming Beverly Hills salon, and 485 products sold in over 2,000 stores globally. Here's how she gets it all done.
On immigrating from Romania and launching her business:
In 1989, when we arrived in Los Angeles, I needed a job, and the only job that didn't require speaking English was aesthetician. So I started working as an aesthetician and realized that not many people were paying attention to eyebrows.
In Romania, when I would get facials, they would tweeze my eyebrows. When I was in school, my art teacher introduced us to the Golden Ratio. I told the owner, "We have to do eyebrows, and I promise you there's a mathematical formula for how to do it." Obviously, she didn't believe me, so in 1992, I rented a room and started shaping eyebrows myself, along with facials and body waxing. I became very busy and a lot of celebrities validated that my technique worked. Cindy Crawford, Naomi Campbell, Stephanie Seymour, all the supermodels were my clients; they were absolutely the most beautiful creatures.
In 1997, I decided to open a salon in Beverly Hills. At that time there were no products for eyebrows, so I developed a line. By 1999, we launched in the salon, and in 2000, we launched in 20 Nordstrom stores. I needed about ten years to convince everyone around the country that eyebrows are important.
On a typical day in her life: 
I wake up at 7 a.m. The first thing I do before I get out of bed is reach for my phone and open Instagram. I go to my page and then I scroll through my feed. I come downstairs, have coffee and a light breakfast, and start answering emails. I have a Pasquini, the old-fashioned Italian coffee machine. I have to make my coffee because I know exactly how much I want and how strong I like it. I drink two coffees, black, every morning.
My trainer comes to my house four to seven times a week depending on my schedule. I do kickboxing and I hike. I live in a hilly area of Beverly Hills so I'll do an hour. We also do weights or I go on the treadmill. By 9:30 or 10 a.m., I am done and I shower, do my hair and makeup, decide what I'm going to wear, and I arrive at the office by 11 a.m. If I have dinner scheduled I leave at 7 p.m., but if I don't, I stay at the office until 9 or 9:30 p.m.
On her daily brow routine: 
As you can imagine, I cannot leave my home without having my eyebrows done. Sometimes I get bored, so I mix products. I use powder and Brow Wiz. Or I use Dipbrow pomade and powder and brow gel. I mix and match, but usually I use a lighter base of powder or pencil, and then I create strokes of hair one shade darker to add dimension.
On her work space: 
I designed my own office. It's original mid-century. I love the colors — right now they are earthy. Maybe in a few years I will change it, but for right now it is beautiful. I have to be organized. I'm OCD, are you kidding me? I have meetings with every department: finance, marketing, social media, product development, so we have many meetings every day. My only complaint is that the day is too short for me — I wish it was 30 or 38 hours.
On communication: 
If there are emails from my team, I usually like to have meetings with them and address it. They will send an email and I will answer back, "We need to talk about this." I want to talk with my whole team and hear everyone's opinion, and then I will be able to make a decision. I don't want to make a decision on my own, because everybody has a different point of view.
On why she never takes lunch: 
I love when people say, "Let's have lunch next week." I don't ever take lunch. If I were to go to lunch I would waste four hours. Four hours to me are so precious. How many times have I eaten a sandwich in my car while driving to the warehouse? Or at my desk, of course. My mother cooks my lunch every day. She has her special butcher and she goes to get vegetables from the Farmer's Market. It's usually a salad with grilled chicken or grilled fish — I love that.
On firing and rehiring her daughter, Claudia Soare, president of Anastasia Beverly Hills: 
My daughter has been working with me for many years. At the beginning, she was in school and she started at the front desk at the salon. She was really efficient, but she would arrive late because she would go out with her friends at night. One day I told her, "If you are late one more time, I'm going to fire you." The next day she was late, so I fired her.
She went and got a job at an insurance company and came back after a month and asked to borrow money. I told her, "I'm sorry, I can't give you any money. If you want to be an adult you have to act like one." I told her that because she was excellent at what she was doing, I could get her back the job at the front desk, but if she was late one more time, she would never, ever work with me again. I told her, "The moment you walk in that front door, I am not your mother, I am your boss, and I am going to be harder on you because you are an example." She agreed and ever since we haven't had a problem.
Throughout the years she's learned every single step of the business. I was very tough, but I think it was the best thing I ever did for her. She learned everything, and I am so proud of who she is today.
On how social media has changed her business:
In 2000, I launched the brow pomade, and it was so advanced that no one wanted it. So we had to pull it. In 2013, my daughter introduced me to Instagram — it was this new app where we could post tutorials, videos, or pictures of exactly how you could use our products. And so that year, I relaunched Dipbrow pomade. Because of Instagram, it was a lot easier to teach the client. At the beginning, no one liked it because they would dip so much and it looked so heavy. Well, with education they learned, and now everyone cannot live without Dipbrow.
The Instagram community has really embraced our tutorials and our presence on Instagram, and we decided to launch a makeup line and promote it on Instagram. That took off, and we started selling in Sephora and everywhere else.
On why she doesn't stress: 
I lived in Romania. The word stress didn't exist there. And, I promise, people really had a reason to be stressed. I don't get stressed. If something doesn't work out the way I planned, I sit down and strategize. I always make plans A, B, and C, and if plan A didn't work, I move on to plan B. This is business and I need to deal with problems. People tend to believe that everything should be easy. It's not. Life is a challenge. Business is a challenge. Everything is a challenge. This is how I look at life. So that's why I don't get stressed.
 
Her advice for breaking into the beauty business: 
First of all, do your homework. You have to be the best and believe in your product. And you should not have a fear of being rejected, because you will be rejected. But if you believe in your products you should fight.
On learning from mistakes:
I've made so many mistakes that you don't have enough pages to write them. But I never make the same mistake twice. I always learn from my mistakes. And that is the reason I am where I am today.
I believed in my theory when everyone rejected my idea. Deep inside, my gut instinct told me this is something that could make a huge difference in every woman's life. And I believed in it. And I never ever had a doubt that I would succeed.

On work-life balance: 
The only time I don't work is when I sleep. Everything I do is work. Even if I go to dinner, I'm in work mode. Of course, I have dinners with my friends, I cook, and I relax. But it's something that's constant. I don't unplug myself unless I decide to go on a vacation for three days. But remember, my life is my work, and my work is my life. So to me it doesn't feel like work. This is my lifestyle. That's the key in life.