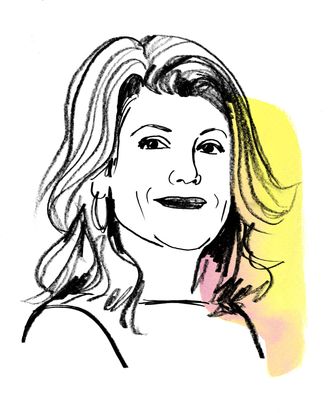 Niki Leondakis became CEO of the global luxury lifestyle brand Equinox last March. Prior to this job, she ran major hospitality brands such as Thompson Hotels and Kimpton Hotels and Restaurants. San Francisco Business Times called her one of the Bay Area's Most Admired CEOs. She oversees 90 clubs, works out once — sometimes twice — a day, mingles with the Greek culturati at night, and says she only has time for a "weekend marriage." Here's how she gets it all done.
On the art of lying in bed:
My alarm goes off at 5 a.m. I like to wake naturally, but I set my alarm to be safe. I intentionally don't pull the shades down at night because I like to wake up and see the city. I live in Chelsea and have a phenomenal skyline and partial water view. Looking out the window in the morning gets me centered. I lay there for five to ten minutes, contemplating my day. What's ahead of me? I try to set an intention. What is the most important thing that I have going on today and what do I want the outcome to be? I meditate on my upcoming day.
On working out when you run an exercise empire:
I do a lot of yoga in the morning. Twice a week, I work with a private teacher from our Pure Yoga brand. We do 90-minute sessions of Ashtanga. I'll supplement that with various Equinox classes. I've always had a love of fitness. Somehow I've always known that you have to be physically healthy and strong to be mentally healthy and strong. It's all connected. At the group classes, I'm also, frankly, evaluating how people are responding to the teacher, lighting, music, etc. I can't turn that off, that's ingrained in who I am — constantly scanning the environment for how we can be better.
On randomly calling members:
We use a survey company to survey members on their gym experience; I read those surveys every morning. This leads to a bunch of questions or calls or further investigation on whatever I've read. I do a pretty good job of taking it in stride. I try not to be overly reactive. If there was a particularly painful experience, like someone got stuck in an elevator because the power was out, I'll pick up the phone and call that member. They are blown away when the CEO calls them to say, "I'm sorry." It makes a huge impact. We'll chat and they'll start telling me everything. I really feel inspired by the conversations. Suddenly the negative experience has turned into positive one — for both of us.
On sitting at her desk about one hour a day:
I have a very strong fear of becoming an ivory tower executive who's out of touch with the business, so I really try to get out to our clubs and connect with our front desk people, our trainers, teachers, etc. This grounds me. I'll do menu tasting, stop by events at the clubs, participate in fundraisers, etc. The least fun part of my job is sitting behind my computer and doing emails. I love connecting with people. The fact is, sitting behind a computer makes me crazy. It's a personal challenge.
On punctuality or lack thereof:
I don't struggle with being present. It's easy for me to pay attention — I'm not looking at my emails or anything like that — but as a result I have difficulty being on time. Luckily, I have a rock star assistant who has been with me for ten years. She is the woman behind the woman. She walks into whatever meeting I am in and will say, "Five more minutes!"
On her astrological sign:
I'm a Sagittarius. We shoot for the stars. I've always been a big dreamer. I'm aspirational. I don't see obstacles and I aim high. In fact, sometimes I have to work to be more realistic, because I can overwhelm my team.
On gardening as therapy:
My husband and I have a house in Sonoma. I'm there a lot. I have a garden and I'm an avid gardener. I find a great deal of joy in cooking with the vegetables I've grown. I truly believe eating seasonally is better for you — to not eat the same thing over and over again; it keeps us in balance and it's better for the environment. There's something very soul satisfying eating the food that I've grown. On several occasions, I've flown produce from my garden from Sonoma to New York.
On beating jet lag:
I travel as much as I can for pleasure and I've really figured out how to minimize jet lag. Here's what I tell friends: (1) Never drink alcohol on the airplane. Only water or herbal tea. (2) Just because they're serving a six-course meal (if you're lucky enough to get upgraded like I usually am), it doesn't mean you have to eat it. Save your appetite for eating locally wherever you arrive. (3) Get into to the time zone wherever you land. Be where you are. (4) Exercise. Try to exercise before you take off and as soon as you land. (5) Get sunlight immediately. Sunlight helps get your body right.
On mingling with the Greeks:
I eat out a lot. I'm partial to Greek restaurants because they remind me of my childhood, of all good things in life. I like Nerai and Loi. Maria Loi is the ambassador of Greek gastronomy; she believes in everything healthy and fresh. I was eating this yogurt dessert the other night and she's like "That's also my facial mask!" It's fun to see the "who's who" in the Greek community. I'll have a glass of wine or two. My parents are from Crete. As a kid, my dad would let us have wine with dinner.
On her nightly ritual:
I like to take a bath with nice, lavender bath salt (I have lavender planted all over my yard in Sonoma) and a glass of red wine — usually a Malbec or Pinot Noir. I let my mind drift; I try to relax. I used to struggle a lot more with relaxation. I'd go in the bath and read business articles. I'd pile them up and binge them in the bathtub. So counterproductive!
On her weekend marriage:
My husband, Bob Puccini, is the founder and CEO of Puccini Group. His company concepts, designs, and operates restaurants for hospitality companies, hotel, and resort owners globally, so he travels all over the world for work. Our marriage has always been a weekend marriage. We have our Friday night date nights and we have our weekends routines where we can be fully present for each other. Then we go full speed ahead with our own things during the week. I'm lucky that despite our busy lives, my husband takes care of so many things, from laundry to bills to managing the house. I get to go to work and take care of me.
On working at a company fueled by endorphins:
Everyone at Equinox is intensely passionate; people truly live for the brand here. At our headquarters, all day long, people are in gym clothes, embracing the lifestyle that we represent. It's really inspiring to see so many people balancing health and wellness with work. It's a very cool, positive culture. I think because we all work out every day, there are positive endorphins all over the office. Believe me, 300 people with positive endorphins is a rare thing to see as a CEO.