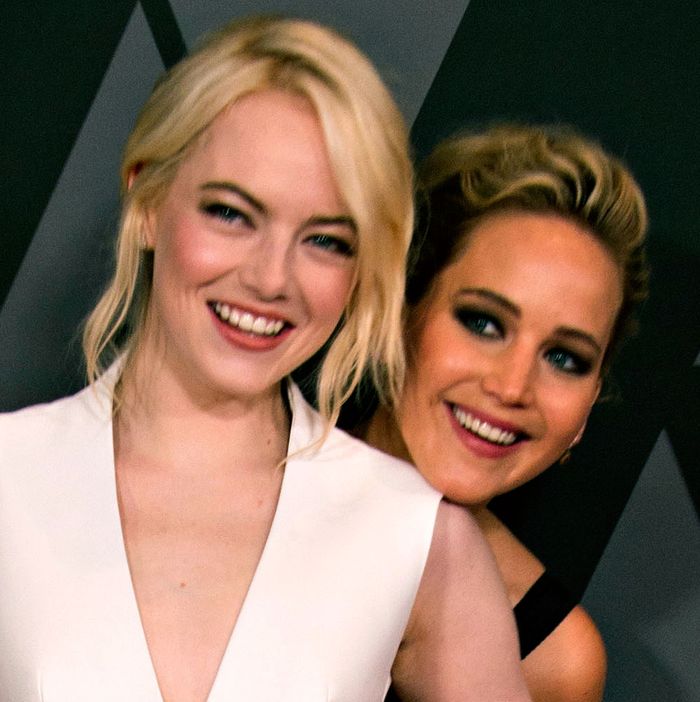 Emma Stone and Jennifer Lawrence.
Photo: Valerie Macon/AFP/Getty Images
Though the two may no longer be in the text-each-other-nonstop phase of their relationship, Hollywood BFFs Emma Stone and Jennifer Lawrence are still going strong, which is how the former was able to convince the latter to bail last-minute on their Golden Globes night plans.
The Mother! star didn't attend the Globes this year, as she wasn't nominated, but she was clearly excited to hit up the after-parties with Stone, who was nominated for her role as Billie Jean King in Battle of the Sexes. Lawrence bought party tickets, invited her hair-and-makeup team to her house, and called a car — and then she got the call from Stone.
In typical J.Law fashion, she had Stone record a Facebook video of her describing the phone call.
"Well, you had told me that you wanted me to be your date to the after-parties so I, you know, got us some tickets to some after-parties," Lawrence says in the video."I booked a car and I was halfway through glam when you told me that you didn't want to go."
She continues, "You just wanted to come over to my house, so I sent my hair-and-makeup team home and now this is what I look like," at which point she turns to face the camera and reveals a single smoky eye. The two burst out laughing, as they're best friends and find each other to be hilarious.
Neither has disclosed how they passed their post-Globes night, but if they really went for it, Cool Ranch Doritos and french fries were definitely involved.