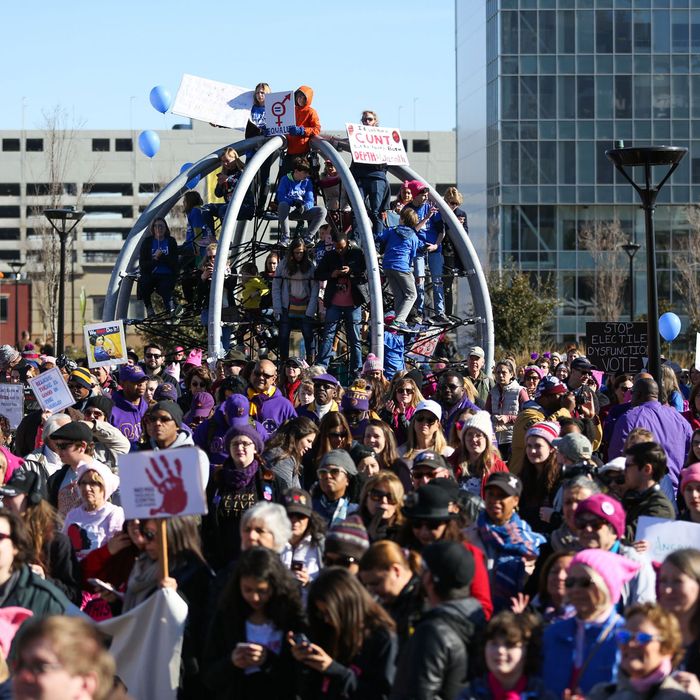 First Ward Park in Charlotte, North Carolina.
Photo: LOGAN CYRUS/AFP/Getty Images
People all across the country — and the world — flooded the streets yesterday for the second annual Women's March, one year after more than 4 million people worldwide marched in the inaugural protest. While there has been no official countrywide or worldwide estimate of the number of people who participated, many people walked shoulder-to-shoulder in crowds in the hundreds of thousands.
In New York City, for example, it's estimated that more than 200,000 protestors marched this year — about half the number of people in 2017. According to local news stations, there were approximately 50,000 protestors in San Francisco, 500,000 in Los Angeles, more than 40,000 in Oakland, tens of thousands in Seattle, and more than 10,000 in Washington, D.C.
Some cities, such as Chicago and Philadelphia, had larger protests this year than last. While this increase could be due to fewer people trekking to D.C. this year for the march, it's estimated that Chicago had more than 300,000 protestors and Philadelphia had a number in the thousands.
Taking into consideration the countless smaller towns around the country that also had marches, it can be assumed that more than one million people participated in one of the 200-plus planned Women's March events. Given that the Women's March Power to the Polls rally in Las Vegas just kicked off this morning, the number will only grow.
This post will be updated as more attendance numbers are released.