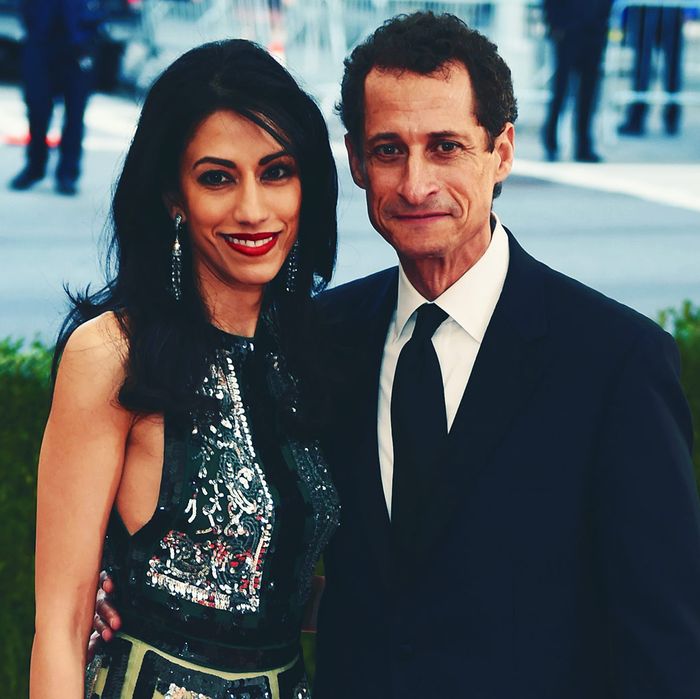 Huma Abedin and Anthony Weiner.
Photo: Timothy A. Clary/AFP/Getty Images
Hillary Clinton aide Huma Abedin and her disgraced ex-Congressman husband Anthony Weiner have withdrawn their divorce case, the New York Post reports. But according to one of Abedin's attorneys, the estranged couple are still splitting up — they've just instead decided to "reach a settlement swiftly and privately" out of court.
The move comes only two months after Weiner, a registered sex offender, began serving a 21-month prison sentence for transferring obscene material to an underage girl. According to the Post, Abedin had been scheduled to appear in Manhattan Supreme Court on Wednesday in the divorce proceedings. But Abedin's attorneys instead submitted paperwork signed by both parties, stating that they've agreed to end the case. Per the Post:
The judge announced from the bench that the case was "discontinued."
Abedin initially stood by Weiner in 2011 when, only a year into their marriage, he admitted to posting an underwear selfie on Twitter (and subsequently resigned from Congress). But by August 2016, Weiner was found to be back to his old ways (sending dick pics), and Abedin announced the couple was separating. Shortly after, the Daily Mail exposed his online sexual relationship with a 15-year-old girl — and then FBI director James Comey revealed an investigation into new Clinton emails linked to Weiner's server.
According to the New York Daily News, Abedin attorney Charles Miller said in a statement: "In order to ensure the proceedings have a minimal impact on their child, the parties have decided to finalize their divorce swiftly and privately."