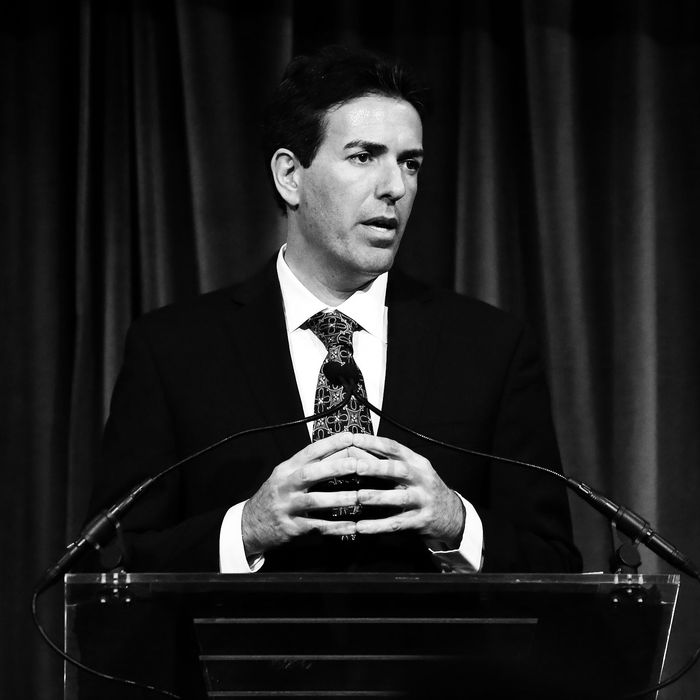 Wayne Pacelle.
Photo: Neilson Barnard/Getty Images for HSUS
Wayne Pacelle, the CEO of the Humane Society of the United States, is being investigated for sexual harassment after the organization received an anonymous complaint about his behavior in December.
According to a new report from the Washington Post, the Humane Society hired Washington D.C. law firm Morgan Lewis to look into Pacelle, who has worked as their CEO since 2004. Investigators spoke to 33 people, including Pacelle, and found three complaints against him, dating back to 2005.
In the first, a woman who was then an intern at the Humane Society said Pacelle asked to meet her at a coffee shop outside the office. There, he pulled her close to him, began dancing with her, and kissed her.
Another staffer said that Pacelle asked her to come to his hotel room after an event during a work trip in 2006. There, per the Post:
He asked if he could masturbate in front of her, requested that she take off her clothes and offered to perform oral sex on her, according to two people briefed on the matter and the memo. When the woman refused, Pacelle told her not to tell anyone or she would destroy the Humane Society and lose her job, according to the memo.
A third woman said Pacelle came to her office one night when she was working alone, began salsa dancing and asked her to join him. Another told investigators she and the CEO had had a sexual relationship, but that he became abusive and controlling after it ended.
Multiple women said they received settlements from the Humane Society after complaining about Pacelle's behavior. According to the Post, people familiar with the investigation expressed concern that the money for these settlements was being misdirected from the organization's funds to protect animals.
One of the largest non-profits in the country, the Humane Society works to address a range of animal-related issues including factory farming, puppy mills, and animal testing.
Pacelle has denied the allegations against him, telling the Post: "This is a coordinated attempt to attack me and the organization, and I absolutely deny any suggestion that I did anything untoward."
Read the full report here.
Updated February 2, 2018, 1:45 pm:
On Friday, the New York Times reported that Pacelle continues to deny all of the allegations against him, but is reassessing whether he will stay on as CEO of the organization after seven board members resigned in protest over the news that Pacelle would be keeping his job.
"I'm going to take stock of everyone's opinion and assess where I go and where the organization goes from here," he said. "I think leadership changes at organizations are often very healthy and renewing, and I'm going to talk with staff and board members and find the best course that contributes to our mission of fighting for all animals."