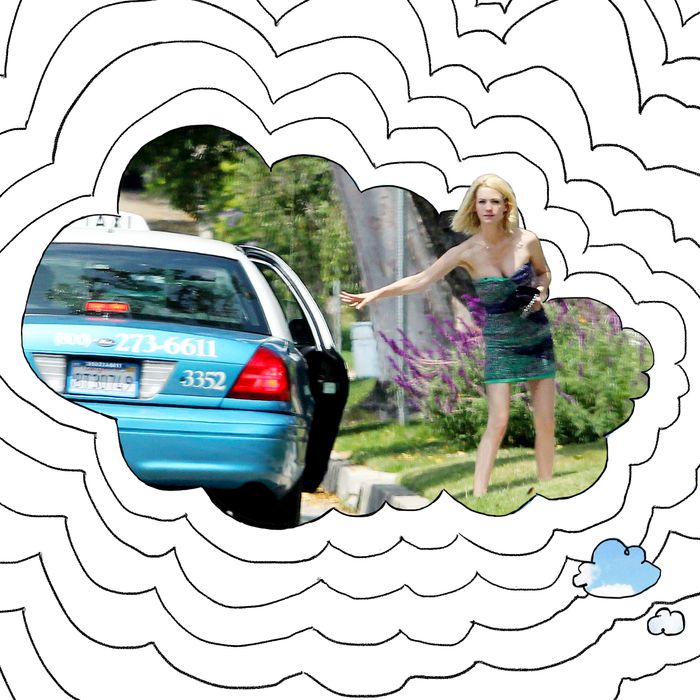 I Think About This a Lot is a series dedicated to private memes: images, videos, and other random trivia we are doomed to play forever on loop in our minds.
On June 8, 2010, Mad Men actress January Jones attended a party at the Sunset Tower hotel in Los Angeles. The party, sponsored by GQ and Nautica, was a fundraiser for "World Oceans Day," which makes me think that the dress she wore, strapless and sequined in mermaid's tail blues and greens, was chosen to match the theme. She paired it with a blowout and nude sandals, and while she looked good, the event photos are utterly forgettable — another set of pictures from another Hollywood party attended by cable television actresses and also Jakob Dylan of The Wallflowers.
What I couldn't get enough of back then, and refuse to stop thinking about more than seven years later, are the paparazzi photos of Jones taken on the morning of June 9, 2010. She's wearing the same dress and shoes but her blowout has both fallen and mussed, and she's stepping out of a bright blue taxi cab, her bleary-eyed, vaguely annoyed squint turning into an outright scowl when she realizes she's being photographed.
Over the next few days, all the big gossip sites of the late '00s (DListed! Pink is the New Blog! ), along with other media entities (BuzzFeed and Gawker) ran the photos with some variation on the phrase "walk of shame." LA Times even ran a poll asking its readers if they thought she was indeed doing the walk of shame. Then a month later, season four of Mad Men premiered and I guess we forgot about the pictures and talked mostly about how mean her character Betty was.
Of the Mad Men women, Jones was probably the least popular. Elisabeth Moss was, from the beginning, championed as the show's most serious actress and is now the high queen of prestige TV. Christina Hendricks possessed a beauty so astounding she seemed to rise above the trivialities of celebrity — the whole thing being, it seemed to me at the time, rather beneath her. People also liked Peggy and Joan, their respective characters, and part of the problem for Jones was that Betty was inherently challenging. It was easy to conflate the two women, or confuse Betty's inability to express herself with Jones's acting abilities.
Jones's public persona was also occasionally … odd, by which I mean: she made people mad when she refused to publicly name the father of her baby, maybe had an affair with Bobby Flay, did a charity video about how humans should be nicer to sharks (incidentally, my most beloved childhood stuffed animal was a shark, which in retrospect may be why I'm so devoted to an actress from a TV show that ended almost three years ago), and was bad on SNL not long after Jon Hamm got super annoying about being into comedy. There were rumors at the time of the paparazzi photos that she was having a secret romance with Adrien Brody and one of my friends wondered aloud, "Did he send her home in the cab and make her pay for it?"
Mad Men would take a longer than usual hiatus after season four, and when it returned Jones's character was a) afraid she had cancer and b) fat. Her other later-season highlights included supporting the war in Vietnam, making rape jokes, and actually getting terminal cancer but continuing to smoke anyway. I'm (obviously, by this point) a Betty apologist, but even if you thought Don was genuinely good and cool (he's not) it's hard not to read Betty's arc as one about getting her comeuppance — for being too beautiful and too vain, for not knowing instinctively how to give and receive warmth, for having an extraordinarily opaque relationship with sex.
While none of the places that ran the cab photos out and out called her a slut (actually: they probably did, but I'm not looking it up! I value myself too much for that), they might as well have. That's what "walk of shame" means, right? That you spent the night drinking and carousing in a beautiful dress and then you met someone and went home with them and took your dress off. Then you put it back on only when the sun's early morning rays reminded you of the existence of a world outside the really fun night you were having and that now your dress and your heels and your clutch (too small for sunglasses!) are supposed to mark you as A Person Who Has Been Out All Night Having Sex, penance you'll have to do until you can get home and change into something without sequins.
I guess the reason I'll never stop thinking about these pictures is because to me, all of this seems glamorous as hell. Who knows what January Jones was doing as June 8 turned into June 9? Who was she with? Was she the center of attention all night, laughing and drinking champagne, or did she sneak away early to meet a handsome somebody somewhere else, texting her friends some nonsense about calling it an early night? I want so badly to know how she spent those wee morning hours, and the most exciting part is that I never will.