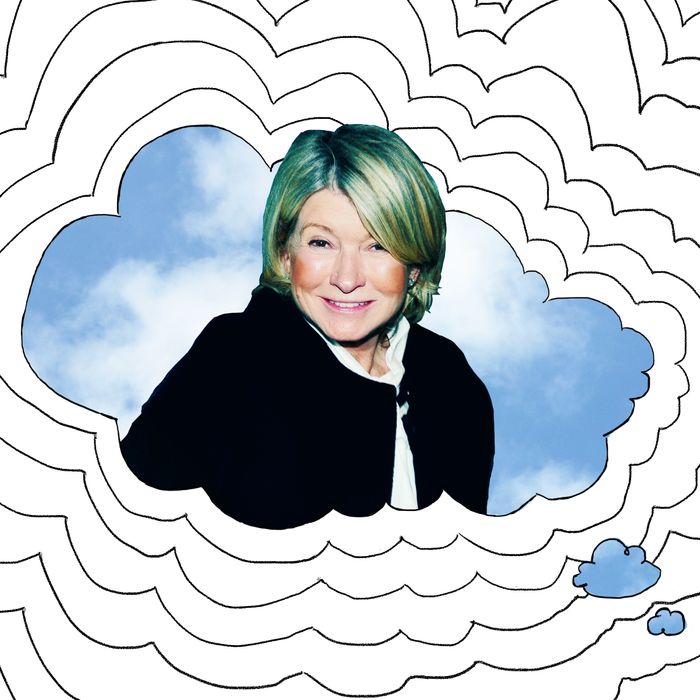 I Think About This a Lot is a series dedicated to private memes: images, videos, and other random trivia we are doomed to play forever on loop in our minds.
In Cardi B's 2017 hit "Bodak Yellow," she famously references her Christian Louboutin shoes without calling them by name, simply rapping, "These expensive / these is red bottoms / these is bloody shoes." When I first heard this, it brought back a memory: Martha Stewart on her mid-2000s talk show telling the audience that, while she likes to wear Louboutin stilettos, she doesn't care for their red soles. So, she said, she covers them up with black Sharpie. YouTube doesn't yield any video proof of this particular anecdote, but I swear the crowd gasped in horror.
There is, however, a post from 2008 on Martha's personal blog titled, "Come see hats, hats, and more great hats!! Please comment and let me know your favorite." Hidden in an otherwise innocuous post about Martha attending a luncheon with fellow rich ladies — all of whom are wearing extravagant hats — is a picture of one of her assistants letting it rip on a pair of peep-toe Louboutins with a thick Sharpie. It is, I would venture to say, a Cursed Image. "Karena, my wardrobe mistress, painting the soles of my Louboutins black," Martha captioned the photo. "I am not a fan of the signature red soles and always change the red to black — this is easy if you use a broad Sharpie." This is easy. Is it, Martha? Is it?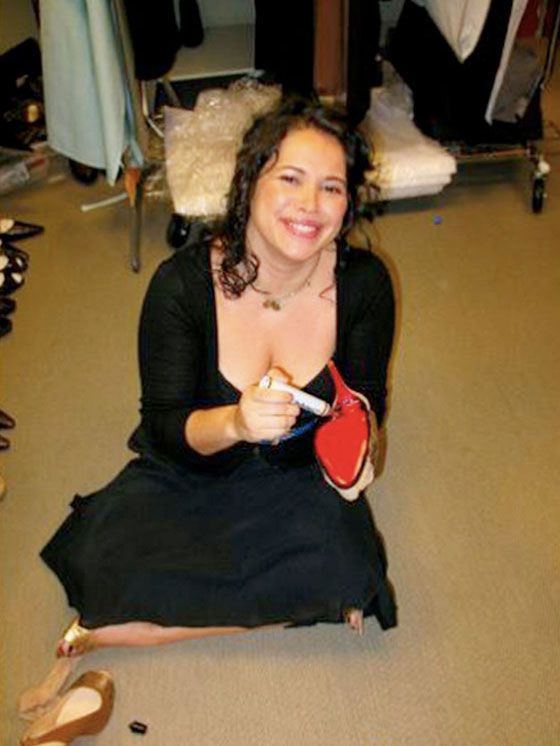 I've gone through several stages of emotion since revisiting Martha's shoe-defacing habit. The first was outrage. What's the point of buying a pair of shoes that costs hundreds of dollars only to cover up their most sought-after element, the red soles? At best, this is an act of sadism against moms who own novelty wineglasses that say things like, "Chocolate is good but shoes are carb-free!" At worst, it's some kind of commentary about the relationship between the proletariat and the bourgeoisie that I'm not intellectual enough to figure out.
As maybe one of a few people who can say from firsthand experience, removing Sharpie from Louboutins is unpleasant and almost impossible. In high school, I found two pairs of them sitting on the racks of my local Goodwill amongst gently worn orthopedic sneakers and Payless sandals. One pair was $6.97 and the other was $9.97 — I knew this because someone had written that on their soles in permanent marker. I bought the shoes with plans of expanding my net worth of zero by reselling them on eBay. Before I could do that, I had to remove the prices from the shoes with the painstaking care of a museum archivist. If you ever find yourself in this situation, take note that nail-polish remover is too harsh, but isopropyl alcohol does work, with heavy elbow grease and a lot of Q-Tips.
From the privileged perspective of someone who once came into some money ($300 I made on eBay), I accept Martha's choices. Sure, a pair of Manolo Blahniks or Jimmy Choos could do the job, but buying Louboutins and covering up their soles with Sharpie is a power move. Martha is a grown woman. She can do whatever she wants, as long as it, you know, doesn't get her sent to prison again for conspiracy, obstruction of an agency proceeding, and making false statements to federal investigators. She is the kind of woman who can just call up Mr. Louboutin himself and ask if it's alright if she vandalizes his work. I know this because in 2012 she told InStyle, "I don't like them red, even though they're his trademark. But he doesn't mind. He said it's okay if I do that — I asked him!"
After acceptance comes celebration: Martha covering up her Louboutins with Sharpie is just another way for her to assert herself as an eccentric who knows what she wants and how to get it. Martha Stewart is a true weirdo. She bites her kittens on the face to let them know she is their mother. Her personal Instagram mainly consists of action shots of her many dogs and exotic birds, uncomfortably close pictures of food, and captions like, "Frightened hungry and thirsty the tangled red tail hawk tries to free itself from the nylon fencing to no avail." For her, covering up her red bottoms with Sharpie not only makes sense, but perhaps is the result of a perfectly ordered universe. May we all live our lives with the deranged confidence of someone taking a permanent marker to a designer stiletto.