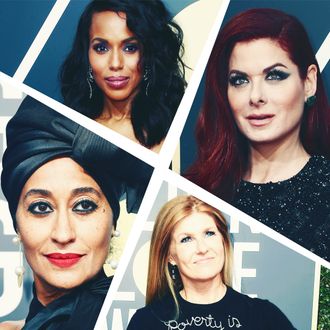 Tracee Ellis Ross, Kerry Washington, Connie Britton, and Debra Messing.
Photo: Getty Images
Tonight's Golden Globes is Hollywood's first major post-Weinstein era awards show, and stars showed up with bones to pick.
As expected, this year's Golden Globes has been one of the most political yet, with stars using their interviews and speeches to denounce the culture of inequality that has plagued Hollywood for so long. Here are some of the most wonderfully, righteously indignant quotes of the evening.
1. Debra Messing calling out E! on E!
Will & Grace's Debra Messing kicked off the evening by calling out E! News for failing to pay their host Catt Sadler as much as her male co-host, Jason Kennedy. During a red-carpet interview with E!'s Giuliana Rancic, Messing said:
"I was so shocked to hear that E! doesn't believe in paying their female co-hosts the same as their male co-hosts. I miss Catt Sadler, and we stand with her."
She added: "And that's something that can change tomorrow. We want people to start having this conversation that women are just as valuable as men."
Watch the full interaction below.
2. Tracee Ellis Ross: "Time's up on a lot of things."
In a red carpet interview with Entertainment Tonight, Blackish star Tracee Ellis Ross explained that Time's Up is about more than just sexual harassment; it's about rejecting all forms of discrimination in Hollywood.
"Time's up on a lot of things," she said, fist raised.
3. Connie Britton's shirt
Connie Britton, star of Ryan Murphy's new series 9-1-1, showed up on the red carpet in a shirt that pretty much says it all.
4. Kerry Washington on not boycotting the Golden Globes
When asked by NBC's Al Roker why women didn't boycott the Golden Globes, Scandal's Kerry Washington answered:
"We shouldn't have to sit out the night. We shouldn't have to give up our seat at the table because of bad behavior that wasn't ours."
5. Denzel Washington on wanting to see real change
In an interview with NBC, Denzel Washington said that as important as tonight may be "it's important to follow through."
"So that takes all of our effort, and real movement, and real change of… laws, but rules of behavior."
6. Laura Dern's North Star
When accepting her Golden Globe for Best Supporting Actress in Big, Little Lies, Laura Dern told the audience: "May we teach our children speaking out without the fear of retribution is our culture's new North Star."