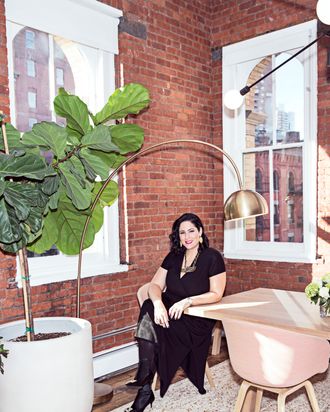 Jolie Hunt-Potter wears Roger Viver boots.
Photo: Victoria Stevens. Produced by Biel Parklee.
In Her Shoes is a column about what real women wear to get things done.
Jolie Hunt-Potter likes to describe herself as a shoe addict. And as the CEO of Hunt & Gather, a marketing and communications firm that handles clients ranging from Lululemon to Rihanna's Clara Lionel Foundation Diamond Ball, she has plenty of opportunities to show off her collection of heels.
After graduating from Boston University with a degree in communications, Jolie-Hunt began her career in public relations at The Financial Times, where she rose up to the position of director. That led to stints at corporate giants like Thomson Reuters, IBM, and AOL. In 2014, she struck out on her own and now runs a company of 24 people with offices in both London and New York.
Below, she talks to the Cut about dressing for late nights, wearing caftans to work, and figuring out what to wear after having a baby.
On learning how to dress for work: Starting out, I worked for a woman who dressed in bland, unstructured suits. It was what she thought commanded respect from men. She was always in skirts (never pants!), pearls, and borderline hospital-grade footwear. Even at 21 I thought, "What's the point of masking your femininity?"
The more into my career I got, the more fashion choices I felt I could afford to make, both financially and in terms of style. I've often found footwear a source of power. It's a choice that literally gives you a life to tackle your day.
On how her style changed after pregnancy: I had a baby this summer, and it shifted my focus from stomping around in heels to becoming acquainted for the first time with flats. My summer shoe was the gold Gucci flower sandal, and then I shifted this fall to their incredible bedazzled Mary Janes. I'm also into their tiger loafers and black sneakers with a female hand on them, which is odd because I'm not a casual person.
On her shoe rotation: Besides the Guccis, I intermittently swap in my Miu Miu steel toe leather flats. I confess that I saw a hot-looking mom at a kid's birthday party wearing these a year ago and bought them immediately. They're edgier than normal flats, which is much more my speed. Then I rotate in other staples from my closet: Everlane Boss boots, Roger Vivier Love flats, and some reliable Prada pumps and camo sneakers. I almost never go for the plain black shoe. I want a narrative in my footwear.
On what she wears to big meetings: Well, if it was summer, you'd see me in a caftan. My favorites are Camilla with Swarovski crystals, but when I'm feeling very fancy, I go Cavalli. (That's definitely not one I can put in rotation for work).
Now that it's cold out, I'm challenged because my normal clothes don't fit given my sweet baby daughter. The same thing happened a couple years ago with my son. You have this gorgeous baby and while you're pregnant you have an excuse to adjust your clothing. The moment the baby arrives, you lose that excuse, and it can be an extremely intimidating moment even for the most confident person.
I don't have an answer. I struggle with this right now because my body is in service to another human. My bust is enormous, my midsection is a rogue extended-stay guest, and this means that I wear a lot of black. Pants are a nightmare but I refuse to spend a ton of money on clothing that will not be with me after this moment in time. My solution has been footwear, statement jewelry, and bold hair or makeup.
On going out after work: My profession requires a lot of nights out and I both love and hate it. I'm strangely good at dressing for it, though, because I often don't have time to change. My default is to look more formal than not. I often don't swap out my shoes — once I commit, I'm there. Thankfully, the stiletto moment doesn't seem to be coming back. The block heel has really saved me. But if I'm literally running around, I'll opt for a flat. Given I'm 5'10", I can easily sneak in this option and few people notice, although I confess that I feel most in my zone in a heel.
On juggling work with kids: My challenge is bedtime, which I hate to miss, so most days I zip home by 6 p.m. to spend time with them. After they fall asleep, I head back out. At a recent event for Bloomberg, I had my kids waiting outside in a car so I could nurse my daughter (along with changing a poopy diaper while dressed in black tie!) and read a story to my son. It's just the juggle of everything right now.
On her Monday morning go-tos: Recently, I've been wearing DVF dresses. I also like cashmere tops.
On the importance of making a strong impression: I dress for myself and I love to look great. It's a source of pride for me. I think being "put together" matters. How on earth could I give advice to a client about their profile or place in the world if I look messy? The metaphor just doesn't work. So it's a rarity that you will see me disheveled, unless of course you bump into me on JetBlue Mint (which is my obsession).
If you buy something through our links, New York may earn an affiliate commission.