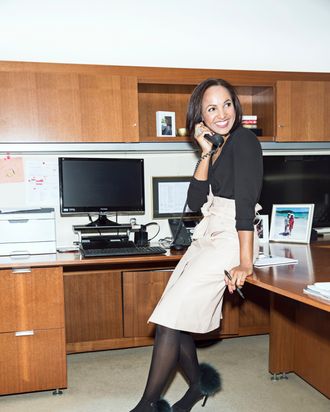 Photo: Victoria Stevens. Produced by Biel Parklee.
In Her Shoes is a column about what real women wear to get things done.
Yrthya Dinzey-Flores has a long title — executive director for global corporate responsibility and inclusion at Time Warner — but a simple mandate: to create a better, more responsible media company. That means she works with upper management on everything from making the workplace more green to hiring and retaining more women and people of color.
After getting her Master's of Public Administration from NYU, Dinzey-Flores found a job at the Manhattan Borough President's office working with woman- and minority-owned businesses and helping them to thrive. From there, she moved on to stints at NYC Department of Education, the New York State Governor's office, and Thompson-Reuters before landing at Time Warner.
Read on to hear about how she juggles corporate meetings, evening galas, and motherhood.
On what she wears to big meeting: I used to work in the public sector and wore a suit most every day — I got so bored! Now that I've joined the media industry, I get to really think about what to wear because there are many different types of contexts. If I meet with creatives, I choose something less serious and with a bit of spunk, like a denim skirt or a jumpsuit. When I'm meeting with our corporate leaders, I'll err on the side of caution with a well-structured dress in an interesting color like this one by Tibi.
On her typical morning: I'm a mom, wife, and sometimes gym rat. When it's my turn to get my daughter up, I wake her up by singing a song my dad used to sing in the morning — she loves it! We have breakfast before I take her to meet the school bus. I stop by the local coffee shop for a chai latte and then I can shower, change, and get ready.
I try head out the door before 8 a.m. I'm a commuter, so I need something that can help me navigate the daily surprises the MTA throws at me. On most mornings I wear my Jil Sander slip-on gold sneakers. They go with everything plus they're dressier and more fashionable than your typical gym shoes.
On her foolproof Monday outfit: I love a black top, white pencil skirt, and white heels. In the winter, I'll add black tights and switch to black suede pumps.
On her shoe drawer: You'll see that they're mostly high-heels so that I can complete any outfit I choose to wear to work. In the mix are black suede pumps, black patent-leather pumps, white leather Rachel Comey pumps (my favorite!), peep-toe leather and snakeskin heels, and blue-suede booties. I love stuff that's classic but not too serious.
On her after-hours obligations: In my line of work, I'm quite often attending events, be they galas, dinners, or movie screenings. I have an arsenal of day-to-evening looks, but to spruce things up I usually change my earrings, add bright red lipstick, and change into a pair of evening-appropriate shoes. I have a pair of Yves Saint Laurent shoes from my mother (a style icon herself) that really make my outfit feel special. Other times I'll go with a pair of Giuseppi Zanottis or my Dries van Noten gold peep-toes.
On her approach to dressing: Because of my life is so varied, I try to dress for myself. If you're not comfortable in your own skin and clothes, it'll be pretty hard to convince anyone that you have what it takes. I see so many different people, from artists to executives, that it's important to me to have my own signature style. I like to appear confident, knowledgeable, and stylish, but never trendy.
If you buy something through our links, New York may earn an affiliate commission.