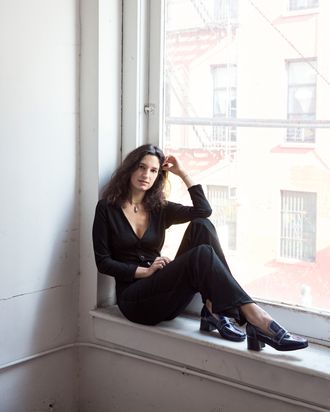 Coralie Colmez wears Nicole Saldana loafers.
Photo: Victoria Stevens. Produced by Biel Parklee.
In Her Shoes is a column about what real women wear to get things done.
Coralie Colmez grew up in France as the daughter of two renowned mathematicians, number theorists Pierre Colmez and Leila Schneps. Now, she works in the family business.
Colmez studied math at Cambridge University. After graduating, she partnered with her mom on a book, Math on Trial: How Numbers Get Used and Abused in the Courtroom, which demonstrates how statistics can affect the outcome of criminal cases. She also co-founded Unifrog, a college readiness tool that's used in over a thousand schools globally. (She and her husband, Alex Kelly, dreamed up the idea on their honeymoon.) And she's lectured extensively on math education throughout Europe and the United States.
Below, Colmez talks to the Cut about her laid-back approach to getting dressed for work, her other job playing in a rock band, and why her closet includes a vintage figure-skating jumpsuit.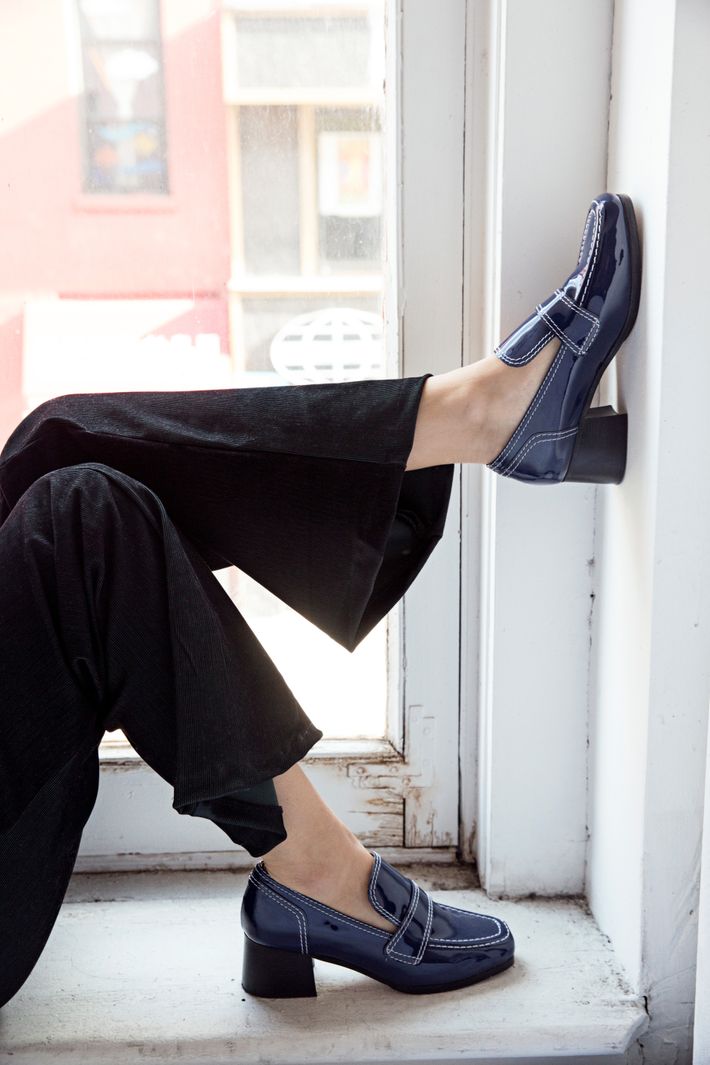 On dressing for a flexible job: I often work from home so I don't have a go-to Monday outfit. Even so, I'm trying not to wear jeans this winter. I love them but they make me lazy. When you're not wearing jeans, I find that it makes you want to dress up the rest of your outfit! Instead I've been wearing corduroy, suede, and leather, and a lot of '70s vintage.
On her favorite heels: If I want to look smarter, I wear low block heels. I like shoes that I can walk in forever but a bit of lift is good. My favorites are the Carel Kina Mary Janes, which I have in pink suede, and the Creatures of Comfort simple heel in white. Wearing white on your feet is great — everyone notices them! I also have a few black pairs, including some vintage schoolgirl Mary Janes which are perfect for when nothing else works. And ankle boots — I always get Vagabond ankle boots because they have every shape you can think of and they are the most comfortable shoes I have ever owned. I've got platform ones, Chelsea boots, zips, laces, everything.
On what she wears to big meeting: When I want to look smart, I choose a coordinating outfit like a suit or a jumpsuit. I wear a lot of vintage corduroy and suede suits, plus I have wonderful friends who make me clothes too. Ali Wall of Wall & Jones in London made me the jumpsuit I am wearing in the pictures, Rowan Kelly makes beautiful corduroy clothes, and Dana Foley's Lower East Side shop is around the corner from me. She has a mix of vintage and pieces she makes herself.
On the luxuries of a short commute: My office is five minutes from my apartment, so I don't need to keep shoes at my desk. I can easily go home and change for evening events. I definitely swap — I like to wear heels when I go out. My platform boots from Vagabond are magic — they make me super tall and they're as comfortable as sneakers. I might stay in a suit but change the top to something office-inappropriate.
On dressing for others: Most days I just see myself and my co-director Alex (who is also my husband) so I dress completely for myself. I used to wear corporate clothes whenever I had meetings but now I don't — I look professional but still true to my style. It's one of the advantages of working in a non-corporate environment: No one can tell me what I should wear. I love clothes and thinking about my outfits. I'd like to think of myself as idiosyncratic, independent, and creative.
On her side gig: I found the band Liquor Radio on Craigslist. I'd been dreaming about joining one for years but it took moving to New York to give me that push. We play original songs with a few covers thrown in. It's indie rock but the violin gives it a really unique, dark folk-y sound — which is awesome for me because I'm the violinist. We just recorded our first EP.
On dressing for her side gig: Playing live is such a rush! I love getting dressed up for shows. I have a lot of great clothes, like a vintage ice-skating jumpsuit, that I've accumulated over the last few years. They don't get much chance for an outing so I make the most of being onstage. I'm also fond of leather trousers with lacing on the sides or a leather dress with over-the-knee boots.
If you buy something through our links, New York may earn an affiliate commission.