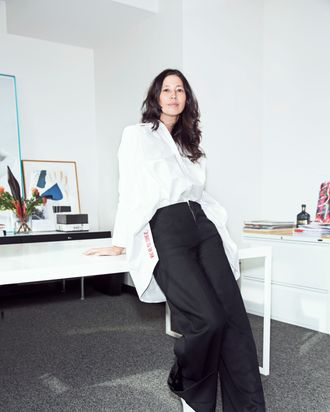 Melissa Jones wears Hermès flats.
Photo: Victoria Stevens. Produced by Biel Parklee.
In Her Shoes is a column about what real women wear when they need to get things done.
You might not know Melissa Jones, but you definitely own something she's worked on. Jones is the owner of DTE Studio, a creative studio in New York City. Her team has consulted on branding and strategy for companies ranging from Madewell to Nike to Fendi. Jones also heads up Masthead Magazine, a new editorial platform that features stunning black-and-white images of personalities ranging from teen singer Billie Eilish to Pat McGrath muse Ryan Burke.
Jones grew up in Hong Kong and studied at the Rhode Island School of Design. Right out of college, she landed a job as art director at Tommy Boy Music, where she worked on album covers for the likes of Coolio and De la Soul. She moved on to V Magazine for a decade, then struck out on her own.
The Cut caught up with Jones at her immaculate office, where she told us about her low-key approach to dressing, how she projects a smart yet stylish image, and why she thinks shopping the men's section is always a good idea. Scroll ahead to read more.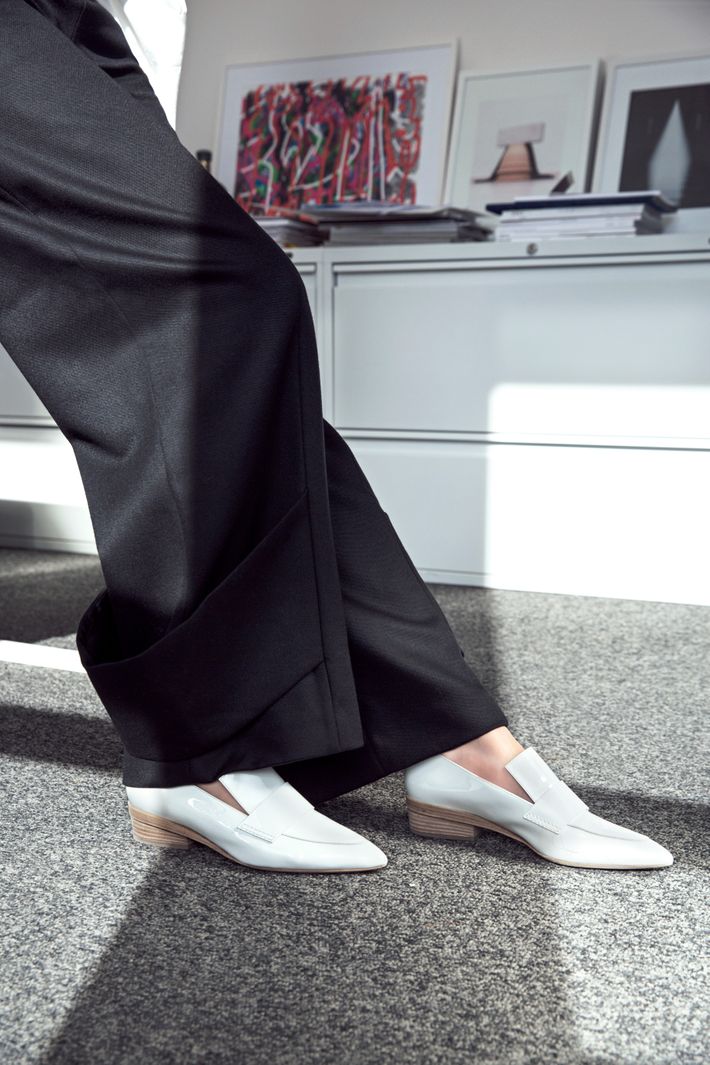 On her uniform, even for big meetings: My uniform is black and white. These are our agency's colors so that's what you'll often find me wearing, especially if I have a big meeting. As a creative agency, it's important for us to reflect our own brand but also be a blank canvas. We want to absorb and reflect our clients' DNA. I mean this both metaphysically and physically, since we tend to fall in love with them and their products.
On her approach to getting dressed for work: I typically dress for what I have booked throughout the day. If I'm running around or on a photo shoot, I want an outfit that can get a bit scruffed up. If it's a day at the office my look is normally inspired by my mood and the projects we are working on. Sometimes it's more avant-garde and artistic, and other times it's more slick and sexy.
I like menswear a lot, so you might call me a bit of a tomboy. I'm really into the Uniqlo x J.W.Anderson jeans at the moment. Now that it's cold you'll also find me in Brooks Brothers men's sweaters — they're my favorite!
On her tightly edited desk-shoe collection: I keep three extra pairs at my desk. I have Paul Andrew black flats that are chic, clean, and will go with anything in case I need a quick change. Then I have white Nike Blazers for shoot days or if I'm in the mood for something cool yet comfortable. And then there are my black Chanel heels for those days that I need that extra boost!
On her everyday shoes: I walk to work most days, so my favorites are boots and flats. These Hermès flats are perfect — they match with everything, plus I love white shoes. They sharpen up my look.
On her post-work outfit strategy: If I have an evening planned, I will wear a day-to-night look. This means you'll normally find me in a pair of black jeans or trousers plus a nice top from one of my favorite brands: Balenciaga, Céline, Dries Van Noten or Comme des Garçons.
Melissa Jones wears Hermès leather flats, $890 at Hermes stores.
If you buy something through our links, New York may earn an affiliate commission.