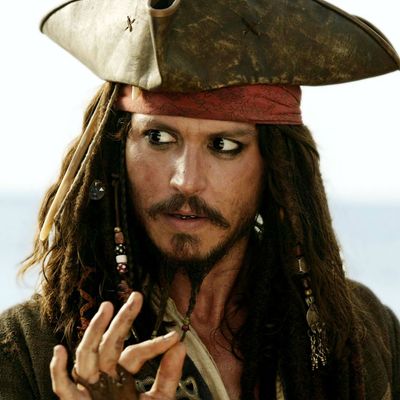 Johnny Depp as Captain Jack Sparrow in the
Pirates of the Caribbean
series.
Photo: Walt Disney Pictures
Amanda Teague met the man she would marry one night in 2014.
The 45-year-old Irishwoman, and Captain Jack Sparrow impersonator, told the Daily Star she was lying in bed when she felt the spirit of Jack — a 300-year-old pirate who died on the open seas in the 18th century.
She soon realized she could also communicate with him. The pair went on drives, argued, and had sex. Teague soon developed "strong loving feelings" for him. (Teague said the man she fell in love with bears a striking resemblance to Johnny Depp, although the Pirates of the Caribbean's Captain Jack Sparrow character is fictional.)
Eventually, Jack proposed, Teague said. "One day he said to me 'We can actually be together you know' but I had never heard of an intimate relationship between a spirit and a human before," she told the Daily Star.
Finally, the pair wed in a private ceremony off the coast of Ireland. Jack said his vows through a medium, and they were in international waters so everything was legal.
"It is the perfect kind of relationship for me," Teague told the Daily Star. "There are a lot of people out there who don't know about spiritual relationships, but it could be right for them. I want to get the message out there."