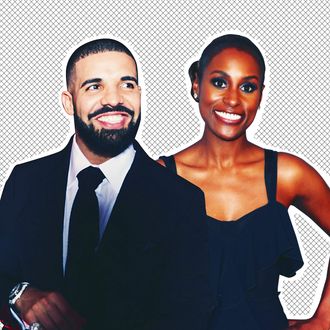 Drake and Issa Rae.
Photo: Getty Images
Time to add Issa Rae to the list of famous women – Jennifer Lopez, Rihanna, and Serena Williams, to name a few – who have apparently rejected Drake. E! reports the Insecure star was spotted turning him down at the Golden Globes on Sunday.
According to an E! "source," Drake "made his whole group stop so he could go talk to" Rae at the Golden Globes. He then asked her if she wanted to stop by the Netflix party he was DJ-ing, but Rae replied that she was with all her friends and essentially said, "Thanks, but no thanks!" before walking away.
But at the same time, a different source told E! that the lovesick Drake "didn't come on that strong," though he definitely did "flirt a little." The "insider" continued, "He thinks Issa Rae is beautiful and talented. He would like to take her on date if he was given the opportunity. He talks highly of her talents to people."
Yet another "source" (how many "sources" are there???) said Rae "never denied" Drake and that the two "exchanged pleasantries." She also apparently did end up stopping by the Netflix party, as Complex notes Rae shared a pic of Drake DJ-ing from the event, with the caption "Zaddy." But one of E!'s hundreds of sources says Rae was dancing with her friends the whole time.
Either way, it sounds like Rae isn't interested in those Birkin bags that Drake has been collecting.