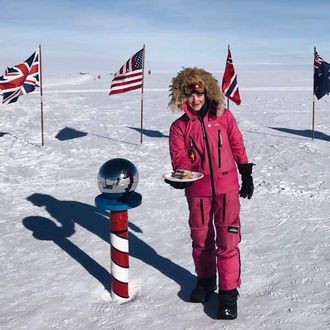 Jade Hameister.
Photo: Courtesy of Facebook/jadehameister
Shortly after she gave a TEDx Talk about becoming the youngest person to ski to the North Pole from outside the last degree, Jade Hameister was subjected to a barrage of trash comments from men telling her to "make me a sandwich." Now, almost two years later, the 16-year-old has a message for her trolls: If you want your sandwich, you have to come and get it.
This month, Hameister became the youngest person ever to pull off the "Polar Hat Trick" — traversing the North Pole, Greenland ice sheet, and South Pole on skis. Back in April 2016, she skied 62 miles to the North Pole, the longest journey to the Pole by any woman in two years. Thirteen months later, she became the youngest woman to ski unassisted across the Greenland ice cap, and on January 13, she completed a, 373-mile, 37-day journey to the South Pole. Once she had skied over both the ceremonial South Pole and the geographic South Pole, Hameister returned to take a special picture for her trolls.
"I skied back to the Pole again … to take this photo for all those men who commented 'Make me a sandwich' on my TEDx Talk," she wrote. "I made you a sandwich (ham & cheese), now ski 37 days and 600km to the South Pole and you can eat it xx"
Hameister told CNN the idea of taking a sandwich to the South Pole had been a joke throughout the trip, but she didn't decide to take the picture until that day:
"The camp we were staying at was less than a (kilometer) away from the actual pole, so we were like, 'Let's just do it.'"
While you try to distract yourself from the fact that this 16-year-old has already accomplished more than most of us will in our whole lives, watch her full TEDx Talk below: