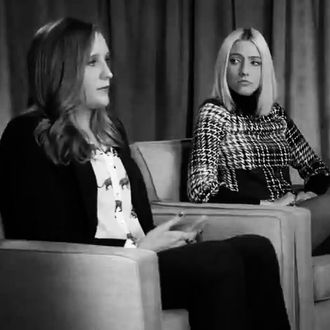 Violet Paley and Sarah Tither on
Good Morning America
.
Photo: Courtesy of GMA/ABC News
Two women who accused James Franco of sexual misconduct appeared on Good Morning America on Tuesday, further detailing the actor's alleged inappropriate behavior and asking him to finally "just apologize" for his actions.
In an interview that aired the same morning the Oscar nominations were announced (Franco was snubbed following his Best Actor win at the Golden Globes), Violet Paley and Sarah Tither-Kaplan spoke out about their allegations against the actor. Tither-Kaplan, a former student in a sex scene class taught by Franco, cried as she talked about her childhood dream of working in the film industry.
"James is absolutely not a Harvey Weinstein," she said. "He is not an unfeeling monster who has no sense of reality. He created an exploitative environment for non-celebrity women on his sets."
Paley told GMA of feeling pressured into performing oral sex on Franco during their first date. After that, she continued to have a sexual relationship with him. "I'm regretful. I was young. He was a celebrity that I looked up to," Paley said.
A representative for Franco told GMA that the allegations against the actor are "not accurate." But Tither-Kaplan called on Franco to use his power to create opportunities for women that are "real and valuable and actually give them career advancement." Paley, meanwhile, asked Franco to "please just apologize."