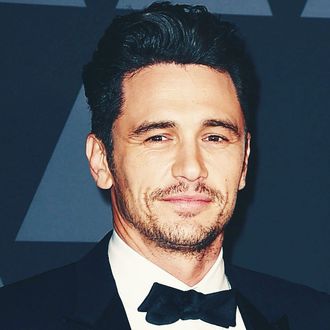 James Franco.
Photo: Kevin Winter/Getty Images
Since he won a Golden Globe two weeks ago, James Franco has been accused of inappropriate and sexually exploitative behavior by five different women. Will more victims speak out as he hurtles towards the Oscars? A new report from People suggests that Franco is nervous about the possibility. A source told the tabloid that Franco "has been reaching out to former girlfriends for the past month asking about his behavior. He's known this was coming and was trying to get ahead of the story."
At least one ex-girlfriend has already come forward to say that Franco behaved inappropriately during their relationship. In an interview with the Los Angeles Times after the Globes, Violet Paley, 23, said Franco pressured her into performing oral sex on him while they were in a relationship. Prior to the encounter, Franco had promised Paley, an aspiring filmmaker, that he would give her notes on her script. "The power dynamic was really off," she told the Times.
Franco has denied all of the allegations against him. But Paley told the Times that he did call her last fall to apologize for aspects of the relationship. If People's source is to be believed, he has placed more calls to ex-girlfriends since.
Franco declined to attend the Critics' Choice Awards last week (where he won another trophy). A source told People, however, that Franco is planning to attend the SAG Awards on Sunday. Another source elaborated on that decision to Entertainment Tonight: "James will still attend the SAG Awards because there is no reason not to. He will carry on supporting the cause and moving forward." Maybe he's feeling good about those calls?